GEJ: Nigeria Will Continue TO Work For Peace And Progress In Africa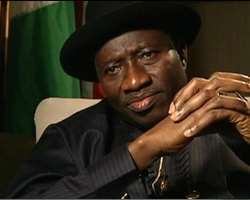 PRESIDENT GOODLUCK EBELE JONATHAN
ABUJA, December 22, (THEWILL) - President Goodluck Ebele Jonathan said Thursday in Abuja that under his leadership, Nigeria's foreign policy decisions and actions will continue to be guided by established principles and her commitment to peace, stability, unity and progress in Africa.

Speaking at separate audiences with the Chairperson of the African Union Commission, Mr. Jean Ping, and Mr. Frank Issoze-Ngondet, a special envoy of the Gabonese President, President Jonathan pledged that Nigeria will keep on giving its full support to all efforts to foster greater cohesion and unity of purpose amongst African leaders for the development of the continent.

"I assure you that Nigeria remains steadfast. Our principles and our commitment to doing what is best for Africa will continue to guide our decisions on continental issues.

"Africa belongs to all of us and we must work together to develop our countries, refocus and reposition the entire continent, and end its perception in other parts of the world as a place of strife, wars, famine and disease," the President said while responding to issues raised by Dr. Ping and the special envoy.

President Jonathan was briefed by Dr. Ping on recent developments concerning the African Union Commission as well as issues relating to events in Libya, the Democratic Republic of Congo and other parts of Africa.

Mr. Issoze-Ngondet who is the Gabonese Minister of Budget, Public Service and State Reforms conveyed a special message from President Ali Bongo Ondimba to President Jonathan.