E.X.P.O.S.E.D :N2B Disappears From Maurice Iwu's Abuja Home ... Another $13,000 from Enugu villa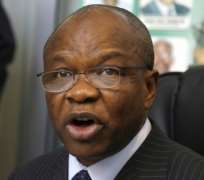 Former chairman of Independent Electoral Commission (INEC), Prof Maurice Iwu is in frantic search.
Sources claimed his situation is compounded by the fact that he can't make noise about the development and has limited sources to look for the 'missing property'
Sources claimed that not too long ago, the sum of N2b disappeared from his Abuja home.
It his not clear why the controversial Nigerian kept such a 'huge sum' at home- insiders however confirmed that ' he called together members of his household-staffers inclusive- to intimate them of the development'
The co coordinator of an electoral exercise viewed in some quarters as 'one of the most flawed and corrupt' was said to have threatened and cajoled for the culprit to own up to no avail.
He was said to have shy away from involving the police because of fear of exposure.
'He feared public exposure, of a loss of such magnitude, might result in re awakening of buried controversies and kick start fresh enquiries into businesses best left forgotten' a source confided
'Then there is the obvious business of coming up with credible explanation of how he came about such an amount and what it was meant for' another quipped in.
Cautioned by his wife, Kate - he was forced to let go after lots of harmless theatrics.
And barely a month ago- a similar incident came to play at his Enugu G.R. A home.
The sum of thirteen thousand dollars could not be found.
Informants claimed the connected Nigerian was deeply enraged and vowed to get to the root of the matter.
He resorted to religion.
He consulted 'a spiritualist' and was given the revelation 'the evil doer is a family member living with him'
Insiders revealed he conducted personal investigations based on this 'assurance' and threw up the name of a late relative's daughter living with him as the culprit.
She was send packing when she failed to own up to the crime.
Informants entertain the notion that, the failure of Maurice Iwu to report the crime might have opened the perfect ploy for 'serfs' to fleece him at will- and utilising the subtle blackmail of his remaining silent.