Congo Forces Kill 24 Since Vote Results: HRW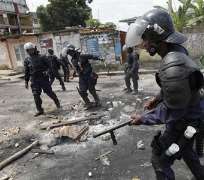 Democratic Republic of Congo security forces have killed 24 people since President Joseph Kabila won a disputed presidential election, Human Rights Watch said on Thursday.
The rights group said all but four of the victims were killed in the capital Kinshasa, where main opposition rival Etienne Tshisekedi is popular. It said there was evidence security forces had tried to hide the killings.
Among the victims, a 21-year-old woman was shot dead and her 8-year-old niece shot in the throat on the day of the election results, as police fired on crowds of opposition supporters in the capital according to HRW, which said its information came from fieldwork, local human rights activists and witnesses.
Security forces appear to have tried to hide the killings by quickly removing corpses, the report said, while sections of the military, including the presidential guard, are accused of detaining people in military camps in the capital.
"These bloody tactics further undermine the electoral process and leave the impression that the government will do whatever it takes to stay in power," HRW's senior Africa researcher Anneke Van Woudenberg said in the statement.
A government official was not available to comment.
Congo's opposition has rejected Kabila's victory in the November 28 poll over allegations of fraud, triggering some street protests. The election process has also drawn wide criticism from international and local observers for irregularities.
The election commission issued the results on December 9, giving Kabila 49 percent of the votes cast to Tshisekedi's 32 percent.
These latest death figures follow an earlier report by HRW saying that 18 people had been killed by security forces in the run up to the polls, claims strongly disputed by the government, which launched an inquiry but said there was a lack of evidence.
Security has been visibly tight since polling day, particularly in key opposition areas including the Kasai provinces and Kinshasa, where heavily armed police and military have been on patrol since the beginning of the month.
On Tuesday heavily equipped riot officers forcibly removed around 40 female protesters who had been staging a sit-in outside the US embassy in Kinshasa, a Reuters witness said.
Congo is still recovering from a 1998-2003 war that killed more than five million people, but a flawed election process and the opposition's refusal to acknowledge the results have led to fears of a protracted political crisis.
There are fears that plans by Tshisekedi to hold his own swearing in ceremony on Friday could spark further clashes.
REUTERS