Toyota Set To Shake Off Woes With Record Sales In 2012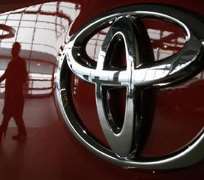 Toyota Motor Corp forecast on Thursday a 20 percent jump in global sales to a record 8.48 million vehicles next year as it claws back from this year's output losses caused by natural disasters in Japan and Thailand.
Toyota overtook General Motors Co as the world's top-selling automaker in 2008 but is set to lose that crown this year as supply chain disruptions from the earthquake and tsunami in Japan and deadly floods in Thailand hampered production around the world.
With estimated sales in 2011 of 7.90 million vehicles for the group, including units Daihatsu Motor Co and Hino Motors Ltd, Toyota is likely to rank third in global sales behind General Motors and Volkswagen AG.
But the top spot could go back to Toyota next year as it builds inventory to meet pent-up demand and adds production capacity in China and Brazil. GM and VW have not disclosed their sales plans for 2012, and Toyota did not provide plans for the group.
Toyota's parent-only plan for 2012 exceeds the peak of 8.43 million marked in 2007.
Toyota also announced plans to sell 8.95 million Toyota, Lexus and Scion vehicles worldwide in 2013, and build 8.98 million vehicles. It gave no regional breakdown for the forecasts outside Japan.
Toyota, once the envy of the auto industry, has had a tough two years, starting with a quality crisis that led to the recall of more than 10 million vehicles globally, a tarnished image and a subsequent slide in sales.
Just as it was starting to turn a corner from that crisis, the March 11 earthquake and tsunami that destroyed hundreds of kilometers of Japan's northeastern coastline forced it and other domestic automakers to suspend and reduce output for months.
In October, damage to suppliers from Thailand's floods did the same, hampering plans to make up for earlier output losses.
Production disrupted by the Thai floods has mostly returned to normal, leaving output at factories only in Japan and Thailand reduced.
REUTERS