Vanessa Nzediegwu's passion for painting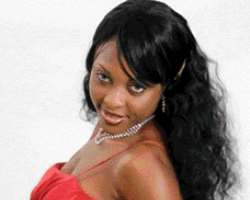 As MI sang in one of his hit songs, Crowd Mentality that one can be anything he or she wants to be, it seems the piece of advice by was meant for beautiful Nollywood actress, Vanessa Nzediegwu.
Or how can one explain the rationale behind the courage of someone who in 2005 saw an artist painting and walked up to him, asking if she could perform the same feat? And four years later, the encouragement by Martins Emosivwe has yielded fruit because the then rookie has succeeded in dragging the crème de la creme in the industry to an art exhibition of paintings and sculptures tagged, "Fyne ArtDiction" to the Southern Sun Hotel, Ikoyi, Lagos under the umbrella of Extremely Talented Artists ( ETA ) organised by the actress as the founder of ETA Foundation and CEO of Veeblu World Limited.
The Delta State-born actress, who has featured in local and international movies such as MNET series (Edge of Paradise), BBC World Service trust series (Wetin Dey), Comrade and Paranoia, Sins of Omission, Working for Love, Message, I am not Stupid, Touching Love, is also a model and TV presenter for Box Office. Other artists that exhibited their works include Wale Lawson, Nina Fabunmi, Nurudeen Odebiyi, Michael Olusegun, Olawunmi Banjo, Lata Anand, Yemi Uthman, Janneke Van Lokven, Sharada Menon and Hakeem Modiu.
On why she is into acting, Vanessa says: "Acting is excitement and when you are not doing that, it gets boring. Although, I have always had a flair for drawing, boredom drove me into it. My first portrait was that of Genevieve Nnaji. She still has the painting in her house. After which I did the portrait of Sunny Neji. Last year, I was introduced to an all female artists exhibition. I made four and sold three. Most of my works were bought by Sony Irabor. I am self taught."
To her, she is just trying to pass the same message in different media either in visual or motion. Among the many dignitaries that attended the exhibition are Chidi Mokeme, Chief Okonta, Newton Jibunoh, Alariwo, Sunny Neji, and Chief Rashhed Gbadamosi.
Story by http://nollywoodgists.com