OKONJO-IWEALA FOR CHINA ON ABUJA RAIL LOAN DEAL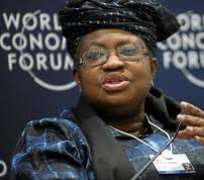 By  FAVOUR  NNABUGWU
ABUJA-Finance Minister; Dr. Ngozi Okonjo-Iweala, is expected to visit China to finalise Chinese Nexim Bank credit facility for  Abuja Light Rail project.
FCT Minister, Senator Bala Mohammed, said  this, yesterday, while receiving the House of Representatives Committee on FCT that paid him a courtesy call in his office.
Senator Bala said the conclusion of the loan-deal would go a long way to ensure speedy realisation of the light rail project.
The Minister stated that rail projects around the world were being borne by governments as they were capital-intensive.
He, however, reiterated that the Federal Government was committed to accelerating the completion of the project in line with the transformation agenda of  President Goodluck Jonathan.
'The Abuja Light Rail project, when completed, apart from affording the residents' cheaper means of transportation,  will significantly reduce the traffic problems being experienced at peak hours in Abuja,' he said.
The Minister further said that efforts were also being geared towards the completion of the Millennium Towers .
Though the Senator lamented that the multi-billion-Naira project was supposed to be Public-Private-Partnership, he remarked that it would be  handed over to the Federal Ministry of Culture and Tourism on completion.
He also revealed that a new policy on district infrastructure that would ensure the workability of Public-Private-Partnership in those areas was underway.
'The new plan may allow the private investor provide infrastructure in a district and be paid with a portion of land in same district, thereby leaving the rest to be shared through the normal Land Use and Allocation Committee to deserving Nigerians,' the Minister added.
Senator Mohammed announced that the FCT Administration planned  to unbundle land allocation in the Federal Capital Territory as it affects education sector, noting that it would discourage parents taking their children and wards abroad.
He directed the officials of the FCT Administration especially the Acting FCT Permanent Secretary, Alhaji Nuhu Ahmed and directors to cooperate with the legislators as they carry out their oversight function.
Speaking earlier, the Chairman, House of Representatives Committee on FCT, Mr. Emmanuel Jime thanked the FCT Minister for the wonderful hand of fellowship he extended to them and appreciated his attendance of their inauguration recently.
The Chairman remarked that the success of their work in FCT could only be successful if there was  harmonious relationship between the two bodies.