Beyonce's Parents Mathew and Tina Knowles Finally Divorce After 31 Years Of Marriage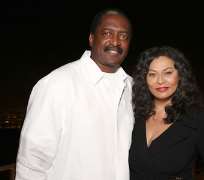 The countdown has been long -- two years to be exact -- but Beyonce's parents, Mathew and Tina Knowles, have finally ended their 31-year marriage, TMZ reports.
News of the split first surfaced in 2009 after it emerged that Mathew had fathered a child with former Scrubs actress Alexsandra Wright. (A DNA test later proved that the child was in fact his.)
Though the original divorce filing was dropped last year after both Mathew and Tina failed to appear in court, Tina filed a divorce petition again in August of this year, claiming that the marriage was "insupportable because of discord or conflict of personalities which prevents any reasonable expectation of reconciliation," according to TMZ.
The final decree of divorce was issued last month in a Texas court.
Earlier this year, Mathew Knowles was accused of stealing money from Beyonce on a tour and taking funds to which he was not entitled.
Knowles refuted the claims while the singer ordered an audit of his Music World Entertainment company. The pair ended their management relationship in March.
HUFFINGTON POST