Crack in the marriage of Living in Bondage's Merit?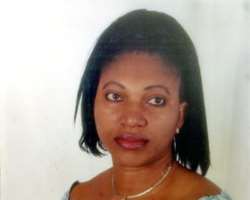 Until 1992 when that best selling premier movie, Living in Bondage, was produced by Okechukwu Ogunjiofor a.k.a Paulo, not much was known of Nnenna Nwabueze, who was called Merit in that movie. She happened to be one of the matriarchs of contemporary video culture in Nigeria.
Nnenna, during her time, ruled the screen. She was a household name in the early days of home video in Nigeria. But unfortunately, the pretty actress who endeared herself to many movie bluffs after featuring in that evergreen movie, did not stay long in the world of make-believe as she was quickly married off by her heartthrob, Chief Okonta.
Reports had it that her Delta State born husband was attracted to her beauty, following her innocence and sense of ethical conduct she displayed while acting in "Living in Bondage"
The last time anything was heard of Nnenna Nwabueze was in 2004, when she narrated to this writer, concerning how she sacrificed her acting career to make her marriage work.
Spotting her however at the National Theatre where she attended one of the AGN's functions, Nnenna announced her readiness to return to her first love-acting.
"I stayed off the screen to concentrate on my family," the mother of three children narrated, declaring however that " now, I'm coming back fully into acting. There's no going back this time around. I'm out to conquer the screen."
But that was not to be, as five years after she made that honest declaration, her face is still missing on screen. An indication that all is not well with our own Merit.
Recently, Nnenna was spotted cruising in a black-colour jeep, somewhere in Ikotu area of Lagos, where she was said to have gone to pick her children from one of the private schools located in that area.
The pretty actress, since her marriage in 1994, lived in FESTAC with her husband. Her alleged relocating to Ikotu may be a confirmation of a rumoured crack in her marriage.
HVP learnt that after their marriage, Nnenna's husband would not allow the fair-skinned actress to return to the screen. In fact, he was said to have banned the UNIPORT trained actress from having anything to do with the screen again.
Her first movie, "Living in Bondage" became a big hit and a launching pad for most of her contemporaries like Ngozi Nwosu, Ruth Osu, Gloria Anozie, and many others. She also starred in "Evil Passion", "Beyond the Vow" and "Alusi" before she finally disappeared from the screen over a decade ago.
The story of Nollywood today cannot be complete without references made to that premier move, "Living in Bondage" and of course, Merit
Story by http://nollywoodgists.com