Gunmen Abduct Village Head In Mobil Host Community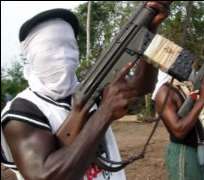 UYO, December 20, (THEWILL) - The village head of Iwuoachang community in Ibeno local government of Akwa Ibom state, Chief Daniel Afia has been reportedly abducted in the early hours of Tuesday, by yet to be identified gunmen.
It was gathered that the kidnappers struck a few minutes after midnight and abducted the traditional ruler in his palace at gun point, fleeing through the Atlantic coastline to an unknown destination.
An eyewitness said the gunmen, numbering about eight gained entrance into the community through the coastline using two speed boats.
The victim was said to have held meetings with some people which last into the night before he was abducted.
It was also gathered that Afia, who is the coordinator of Chiefs in Ibeno has been deliberating with segments of the community on the N600 million shares of the oil spill palliative funds from Mobil to its host communities in the past weeks.
A community source hinted that the N2 billion oil spill palliative fund recently released by Mobil Producing Nigeria (MPN) has triggered discontent in oil bearing communities in Ibeno, Onna, Eket and Esit Eket communities, contending that the kidnap may not be unconnected to the largesse.
The oil firm insisted that the fund was for community development projects to be executed by its contractors while members of the community preferred cash pay out to the oil spill victims.
Ibeno community hosts Mobil Producing Nigeria's Qua Iboe oil export terminal and the Qua Iboe oil fields.
Police Commissioner in Akwa Ibom Mr. Solomon Arase who confirmed the incident said he was still awaiting details of the incident from the Divisional Police Officer in Ibeno.