7 BUILDINGS DESTROYED AS ANOTHER EXPLOSION ROCKS KADUNA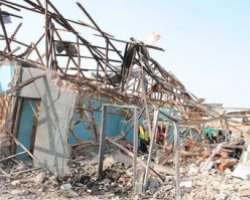 By Luka Binniyat
KADUNA - A week after an explosion killed seven people leaving six injured in Kaduna, the city witnessed another bomb explosion yesterday triggering a pandemonium that sent hundreds of residents scampering to the Nigerian Defence Academy (NDA) Barracks about two kilometres away.
The explosion which occurred around 1:30pm on Ibrahim Rintiyi street, Unguwan Magaji, Kawo, Kaduna, demolished about seven buildings around the house where it exploded.
Though no death was recorded, three persons believed to be the occupants of the House, ran out of the building covered in blood, but were chased and apprehended by locals who promptly handed them over to the Police.
Rubbles of the building at Rafin Bida Close, Angwar Magaji area of Kaduna.
When Vanguard visited the site, around 3pm yesterday  the place was smelling of gunpowder, with smoke  still  bellowing from house A R 33  where the explosion took place.
A crowd of soldiers, Police anti-bomb squad, Civil Defence Corps and plainclothesmen combed the ruins of the  house where they discovered that it may have been an illegal armoury of sort, as three military rifles partly charred were recovered.
As at the time of going to Press, the Police said that there may be more arms buried underneath the ruins.
The Police anti-bomb squad came up with a sack full of what is believed to be bomb making devices, complete with a car battery and a generating set.
Mallam Muba Namando (60) who lives a few meters from House AR 33 spoke to Vanguard on his experience: 'It must have been around 1pm. I had just finished my afternoon prayers and about to come home, when the ground shook, and I heard this explosion.
Then I saw that house smoking. I thought it was gas cylinder that exploded. As I ran there, I saw three people running out. Then some people chased them and caught them. There was an argument about what to do with them. They were bleeding and two of them had burns on them. We then agreed that they cannot be taken to the Hospital without Police knowing.
'As we were looking for ways to get to the police, a series of more explosions took place. But no one was hurt, because we were already all out. By now the Police arrived and took them away,
'I have been here for about a year. This is the first time I am seeing this kind of thing'
According to Mallam Maidala Ilu (35) who also owns an uncompleted mud-house near the place of explosion, confirmed what Namando said. 'One of them was badly hurt and he was behaving as if he was mentally unstable. He was reciting the Quran and talking to himself. He made an attempt to escape. But was caught him and pinned him down. I later left for my shop about two kilometre away. Then I heard series of explosions from there', he said.
The Ward Head  of Unguwan Magaji  Malam Mai Unguwan Yakubu in his own account said: 'This is the first time we saw this kind of explosive, except the one in mahuta just near by, but now we thank God since the law enforcement  agents are all here so by God grace everything will be alright. 'I don't know the person that was renting the house now because they are new in this area', he  said
The owner of the property, Aminu Yusuf (42) was brought to the place under arrest.
He told journalists the he rented the house out through an agent on the 17th of July this year.
'I only know that they are Hausa people. I was told they were married with children, but that their families would join them later. Only the agent knows about them. I saw them once. The agent is an Hausa man called Abulrazak. That is all I know about him', he said.