APPEAL COURT COMING FOR ANAMBRA SOON -OBI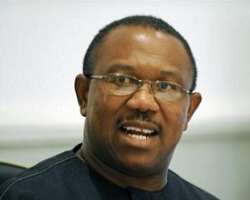 Anambra State will soon get a Court of Appeal . Governor Obi disclosed this during the commissioning of the ultra modern new Customary Court of Appeal at Awka yesterday.
He said the siting of offices and even markets were controlled by forces of demand and nearness to source of raw materials and market in case of industry. Therefore, he said since most cases at the Federal Court of Appeal were Anambra State cases and that going by the philosophy of need, Anambra needed it more than any other state in the country.
The governor said although some people might think that the litigious nature of Anambra people was a negative phenomenon, it was a sign of civilisation since it showed that rather than follow the arbitrariness of force, preferred the courts.
Obi commended the state judiciary for being one of the best. He noted that the state judges always performed creditably on external assignments.He said the executive would continue to work with the judiciary in the best tradition of separation of powers.
In her address, the President of the Court of Appeal, Justice C.O Amechi recalled how the establishment of the court was started during the tenure of Dr. Chimaroke Mbadinuju, but was only pursued with seriousness by the incumbent Governor, Peter Obi. She said: 'Obi insisted that the setting up of this court must be pursued to its logical conclusion.
According to her, it was Obi who gave approval for the process of appointment of the judge of the court, renovated the old High Court, provided the necessary facilities, bought official vehicles for the judges and started and completed the administrative block that was commissioned.
The Chairman of the House Committee on Judiciary, Mr Chigbo Enwezor commended the governor for his interest and development of all sectors in the spirit of Anambra Integrated Development Strategy.
He said the governor, who was also instrumental to the siting of the Federal High Court in the state and was making strenuous efforts for the siting of the Court of Appeal, was really responsive to the comprehensive needs of the people.