GEJ Hails As Nigeria's New Communications Satellite Launch Is Successful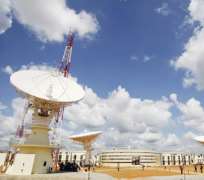 ABUJA, December 19, (THEWILL) - President Goodluck Ebele Jonathan has said that the successful launching of the new Nigerian Communications Satellite today in Xichang, China is another great step forward for the country towards the development of a modern, knowledge- driven society.
NIGCOMSAT-1R replaces Nigeria's first broadcast satellite, which was lost in 2008. Nigeria launched two observation satellites in August this year. The satellite which is expected to provide phone, broadband Internet and broadcasting services in Nigeria and other African countries.
In a congratulatory statement to the nation, President Jonathan said that with the successful launching of the new satellite, Nigeria had kept up with the time-frame of activities contained in the country's 25-year National Space Development Road-map.
He noted that the new satellite which was paid for by the insurance policy on NigComSat-1 which de-orbited in 2009, will have a positive impact on national development in various sectors such as communications, internet services, health, agriculture, environmental protection and national security.
"It will enhance our communications system as well as facilitate cheaper access to the internet with a view to bridging the existing digital divide between our urban and predominantly rural communities and thereby bringing government nearer to the grass roots," President Jonathan said.
NigComSat-1R, the President added, will also help in the development of indigenous competence in the management of satellites and related technologies in Nigeria.
He said that the new satellite will substantially reduce the annual expenditure of over $1 Billion arising from the use of foreign bandwidth for GSM Communications, cable television, e-commerce and e-government by both public and private users in the country.
"Dear country men and women, investment in these high technology resources are part of our overall national strategy of developing an integrated critical national infrastructure capable of fast-tracking the transformation of our national economy, generating gainful employment for our youths and creating wealth for our dear country.
"Our primary goal remains the accelerated improvement in the overall welfare or our country and people.
"I send my sincere congratulations to you all for another great stride in our Transformation efforts." President Jonathan said.