UN's Ban Condemns Excessive Force In Cairo Clashes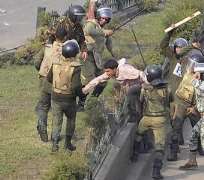 U.N. Secretary-General Ban Ki-moon condemned excessive use of force by Egypt's security forces as hundreds of demonstrators demanding an end to military rule clashed with police in Cairo for a fourth day.
Police and soldiers using batons drove stone-throwing protesters out of Cairo's Tahrir Square, hub of the uprising that ousted Hosni Mubarak in February, early on Monday, a Reuters witness said.
Protesters fled down sidestreets, away from sensitive areas where parliament, the cabinet offices and Interior Ministry are located. Security forces have previously cleared the square briefly only to pull back when protesters return in force.
At least 10 people have died in the past three days of clashes as protesters demand that the generals who took charge after Mubarak's overthrow quit power. The violence broke out just after the second stage of elections that Egyptians hope will bring stability and civilian rule.
"Down with Tantawi," protesters chanted late on Sunday, referring to Field Marshal Mohamed Hussein Tantawi who heads the army council and was Mubarak's defence minister.
Youths had earlier hurled rocks and petrol bombs at lines of security forces. Riot police appeared to have moved to the front line instead of soldiers.
U.S. Secretary of State Hillary Clinton said she was "deeply concerned" about the violence in Egypt and urged the security forces "to respect and protect the universal rights of all Egyptians." In a statement, she also urged protesters "to refrain from acts of violence."
Ban Ki-moon "is highly alarmed by the excessive use of force employed by the security forces against protesters, and calls for the transitional authorities to act with restraint and uphold human rights, including the right to peaceful protest," the U.N. Secretary-General's office said in a statement.
Troops in riot gear have been filmed in recent days beating protesters with long sticks after they had fallen to the ground. A Reuters picture showed two soldiers dragging a woman lying on the ground by her shirt, exposing her underwear.
The violence has overshadowed a staggered parliamentary election, the first free vote most Egyptians can remember, that is set to give Islamists the biggest bloc.
Some Egyptians are enraged by the army's behaviour. Others want to focus on voting, not street protests.
The ruling Supreme Council of the Armed Forces will retain power even after the lower house vote is completed in January, but has pledged to hand over to an elected president by July.
BOUTS OF VIOLENCE
On Sunday, when hundreds of protesters were in the square, a group of activists urged those hurling stones at police lines to stop, but they refused, citing the deaths of 10 people as a reason not to "negotiate".
Other activists handed over to the army people they said were making petrol bombs.
A hard core of activists have camped in Tahrir since a protest against army rule on November 18 that was sparked by the army-backed cabinet's proposals to permanently shield the military from civilian oversight in the new constitution.
Bouts of violence since then, including a flare-up last month that killed 42 people, have deepened frustrations of many other Egyptians, who want an end to protests. They see the military as the only force capable of restoring stability.
"There are people who wait for any problem and seek to amplify it ... The clashes won't stop. There are street children who found shelter in Tahrir," said Ali el-Nubi, a postal worker, adding the army should have managed the transition better.
Reuters television footage showed one soldier firing a shot at fleeing protesters on Saturday, though it was not clear if he was using live rounds. The army said it does not use live ammunition and has said troops tackled "thugs", not protesters.
The Health Ministry said 10 people had been killed in the violence since Friday and 505 injured, of whom 384 had been taken to hospital.
The latest bloodshed began after the second round of voting last week for parliament's lower house. The staggered election began on November 28 and will end with a run-off vote on January 11.
The Muslim Brotherhood and other Islamist parties repressed in the 30-year Mubarak era have emerged as strong front-runners.
REUTERS