ACTRESS FUNKE AKINDELE EXPLODES ''I AM NOT A HUSBAND SNATCHER''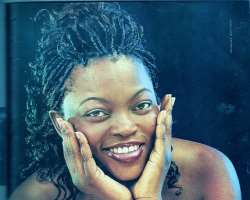 First we heard she snatched olasco from her colleague ronke oshodi-oke,then we heard names like kunle coker,then yinka quadri...infact the reports keep tagging this talented actress with different men and the recent rumour making the rounds is tha tfunke is dating femi adebayo and is supposedly pregnant by him.we contacted this actress to hear her side of the story and told her''funke we need to know the truth surrounding you and Femi Adebayo'' .
Heres what she had to say to STELLA DIMOKO-KORKUS.
Enjoy the interview!
1-Sulia..oops sorry ,funke how are you and hows your alter image suliat?
..... I am doing fine and Suliat is chilling waiting to explode in 'the return of jenifa' as a bigz girl for life.
2-You have single handedly turned yourself into a household name by featuring in your own movies.how does this make you feel?
.... I am happy about that, Producing a movie and featuring in it is not easy, But i thank God for the strength, wisdom and knowledge to achieve that. My first lead role was in my first movie as a producer "OJO KETA-LA" (13th day).
3-Looking back at those 'i need to know days'.do you wow at how far you have come?
... Of course i do,i am still amazed at how far God has brought me.I have no choice than to thank God for his favours because many are called but few are chosen.i am happy to be amongst the chosen.
4-You were recently honoured at the afrohollywood awards.hows does it fee like every time you have to pick up an award to acknowledge your hard work?
...I am always happy and i feel fulfilled that people out there appreciate my work.it keeps me going and gives me the drive to work harder and i promise my fans more quality movies from the funke akindele stable.
5-Would i be right to call you a yoruba actress?
... No, I am an actress, In both english and yoruba movies.I recently featured in some English movies,So watch out for them.
6-Funke,why is your name suddenly courting controversy?its either we hear you have snatched someones husband or dating someones boyfriend,what is the story here?
... At first when i saw these negative stories in some soft sell magazines,I felt so terrible and I really cried Because they are all lies. I thank God for my mum Because she was there to encourage me ,she told me to be strong.i know that as a person in the public eye different stories will be written about me and Anything i do or say will be Multiplied, So one has to be careful.my mum told me not to be bothered,and that i should remain focused and continue living the decent life I am living. A lot has been said, Especially about femi adebayo and i.femi is a colleague and I have worked with him on so many projects including mine.I use this medium to clear the air now that i am not dating femi adebayo Neither am i pregnant for him according to what i have heard and read.i also categorically state here that I did not snatch anybody`s husband neither am i dating anyone`s boyfriend.they should stop trying to tag me as a husband snatcher when i am not one.
A lot of young girls out there see me as a role model and look up to me, So i will not do such a thing. And don't forget my fans will always want me to live a good and decent life. I Thank God the Man i am seeing does not give in to all these stories, because he knows me well and knows that i am a decent person.
where ever all these stories are coming from,let it go back to sender.sometimes i just want to beleive that these lies written are about another funke akindele and not me.these stories are just distractions to make me loose focus.
7-are you one of those celebrities who is in a relationship but decide you want to keep it under wraps?
...Yes.lets just say that i am a very private person and i am trying to keep my relationship under wraps.if it gets to the point of us getting married,the lucky man will be unveiled.
8-You are one of those acknowledged as a worthy ambassador by globacom,has this changed peoples perception of you?
....Yes it has,now i get lots of respect from people because i am representing a well respected brand world wide. I am happy about this.
9-Why did you decide to make your own movies?was it because you were not satisfied with the stories you were given to interpret or is it that there is more money to be made from shooting your own movies?
... Have always loved writing stories and when i started acting professionally i loved the movie producing aspect and decided to start producing my own movies starting with a ojo keta-la which i wrote many years back while i was in the polytechnic.
10-Do you still get movie makers call you up to pick up scripts since you became a movie maker yourself?
.... Yes, i get a lot of scripts from producers, But i am very choosy about the stories i agree to interprete.
11-Are you planning on making any more movies soon?
.... Yes i am working on the script of 'the return of jenifa' and 'dasofunjo' which is a dance movie that will show case our big stars doing the traditional dance bata, e.t.c
12-Sell yourself to us,what kind of a person are you?
.... I am hardworking, Determined and very God fearing.
13-What forefathers old saying do you like best?
.... Remember the child of whom you are.
14-I am one of your fans,what do you want to tell us your faithful fans?
...Firstly, i will love to appreciate all my fans and thank them for all the love.i also want to assure them that i will continue to do them proud.i am so grateful to them for appreciating my movies and sharing in my dreams.they should not let the negative reports derail them from beleiveing in me.because of God and them,funke akindele will continue to be a brand that will be forever celebrated.see ya,cash ya lerra.
Story by http://nollywoodgists.com