Boko Haram: Police Uncovers Bomb Factory In Kano After Gun Fight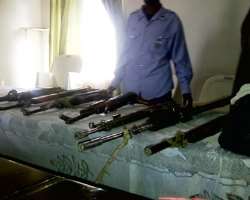 KANO, December 18, (THEWILL) – The Kano State Police Command got a huge break Saturday after its Special Forces raided three residences which had been under surveillance having been tipped off that the properties were residences of members of the Boko Haram sect.
In one of the raids in Kano metropolis, policemen met stiff resistance and after a gunfight with members of the sect uncovered a mini bomb factory, arms, chemicals and activated IEDs.
In all, the Kano State Police Commissioner, Mr. Ibrahim Idris told correspondents that fourteen (14) members of the radical Islamic terrorists were detained, four sect members killed, while 3 police officers died from gunshots.
The policemen were killed at Darmanawa Quarters, Ungwan Uku in Kano metropolis.
Idris further told reporters that the police recovered three vehicles, seven riffles, comprising four AK47s and shot guns including one G3 rifle as well as nine magazines and 1,125 live ammunitions of different calibers. The arms were found in a black Honda Accord sedan with Lagos tag no: FF 479 APP.
He further revealed that one of the recovered vehicles was laden with explosives, meant for a planned attack, which he said the police stopped with the raid.
Idris narrated how a raid of the residence of one Mohammed Ali at Darnamawa Quarters led to the discovery of one Honda sedan packed with one gallon containing 50 litres of petrol and 50 kg cylinders well prepared for suicide bombing mission.

"Investigation has so far shown that all the suspects so far arrested or being declared wanted are non natives of the state. They are strangers who have made their states inhabitable and have fled to Kano to abuse its hospitality.
"These incidences that occurred in the last few days and the support demonstrated by the indigenes of this state have shown that they have neither sympathetic nor affiliated with this group of individuals.
"We appreciate the concern shown by members of the various communities by giving us information and showing visible anger by the attacks they made on the suspects during their arrest," Idris stated.
Detailing how the police arrested 14 suspected members of the sect with the help of their host community, Idris explained that during the operation that lasted for several hours because of the exchange of gunfire, four members of Boko Haram were shot dead.
In another development, one police officer was critically wounded in an attack allegedly launched by the dreaded Islamic Sect between 7 and 8 o'clock on Saturday evening.
The incident occurred when a team of police officers, acting on a tipoff, invaded a suspected hideout of Boko Haram at Ungwan-Uku, Kano to dislodge and detain sect members believed to have hatched a plan to attack security formations within the state.
The raid came barely two days after sect members attacked an Air Force Academy along Kano-Katsina Road where three Air Force personnel were killed.
The sect in a statement Saturday had promised to unleash serial attacks on prime targets in Kano.
THEWILL correspondent gathered that the police later intercepted a vehicle packed with several GSM handsets and a two-way communications radio at Gwale Quarters. The four occupants of the vehicle, in a bid to evade arrest, allegedly shot sporadically into the air and fled, leaving their vehicle behind.
The threats of more attacks on security personnel and formations in Kano have forced the police to issue a red alert and several counter terror measures being strictly enforced.