MY FATHER HAD 10 WIVES -KUNLE AFOLAYAN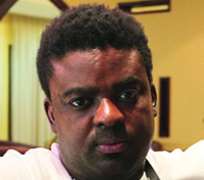 • Kunle Afolayan
Kunle Afolayan had his path well cut out for him from childhood. His father was the late legendary movie maker, Ade Love. Kunle started dancing as a child and followed up with a career in acting, with a commendable debut as a young lad in Saworo Ide, where he played Aresejabata.
Well, he is no longer a boy-man and he has grown to become a moviemaker of note with three major movies to his credit. In this interview, Kunle (Mr. Figurine), speaks about the story behind the glory. Excerpt…
We hear Nollywood people complain about the cinema not treating them well. Is that true?
I think most cinemas are set up to make money. I am sure their major interest would be to recoup their investment and run a very viable and lucrative business. We are content creators and have that edge, because we create the content the cinemas also need because they rely on the content for their business to run. But they rely on content that are commercially viable. So, sometimes the adjustment is based on what returns can this film actually bring or give birth to. Most Hollywood films they subscribe to are of standard. They know what they are getting. Their overhead is minimal and it is what they have been used to. It is something they have been running for so long, and they have a ready-made format.
But Nollywood cinema procedure is just coming back and most of the cinemas are just beginning to accept the kind of movie we do. All over the world, the way it works is that you don't just do a deal with cinemas. The cinemas deal with distributors, who are supposed to have the interest of the filmmaker at heart because they make money also from the content. I think we need distributors that cannot only sell and market films but also provide good publicity and awareness for some of the films, because the only way people can get to know about your film is when it is well advertised.
Usually, distributors have certain budget for publicity and marketing, and when all these things are put together, the producers would bother less when it comes to when to release films. That is the job of distributors and I am looking forward to that day we would have enough distributors so that the filmmaker can concentrate on the creative content while distributors can help discuss with cinemas and all that.
So, your experience at the cinema was good?
Yes, my experience at the cinema was okay because it was new then. I was one of those who actually brought back the cinema culture. I can say it was fair because I met half way with cinemas. We had an understanding and a good run. I really have no cause to complain. A lot of people complained to me that the deal is now different and they were not being treated fairly and all that. But I can only speak for myself. Now that I am about to release another film, it is only when I get there that I would know what is new and the best way to go about it.
Some time ago you distributed your films yourself, would you self-distribute again this time?
If there are distributors who can do justice to my film… honestly I would rather a distributor does the job so that I can move on to the next project.
Let's talk about Figurine. How is the DVD doing in the market?
The DVD has not been released yet but it would be released this December. I believe strongly that it is going to do well because a lot of people have been booking online on www.hibuzz.com and the pre-bookings have been increasing every day. It will be released on the 23rd.
Why did it take so long to release the DVD since the movie came out in 2009?
It is this problem of distribution, because we were waiting for a good distribution platform for the DVD and we just had one. Normally, the best way to really have all films released is to harness all distribution channels and hand over to the distributors - the terrestrial TV, the online stream and the cinemas. Now we have Highways Distributions. They seem to be ready to take distribution to another level.
What should we expect from the DVD?
Well, it is a complete package. Such DVD has not been released before in this country. It is a full movie with interactive menu, the latest scenes, and the making of the film, which runs for about 30 minutes. We don't really need to convince people about whether the film is interesting or not. It's just to tell them where to get it. I believe it is what the average Nigerian would want to keep in his library.
Tell us about your new movie, Phone Swap?
It was actually a brief I got from a multinational company. They are into phones, home appliances and all that. They wanted us to give them a script that would appeal to the average Nigerian between age 15 and 45. We were supposed to do it together but they pulled out. So I decided to do it myself because it's a bright movie; a comedy drama. I had done two serious films and was actually planning to do another serious film. When I talk about serious film, I am talking about dark film or thriller. I believe it's a good story that can be set anywhere in the world. So I decided to do it.
What is the cast, because on your location I saw a collection of veterans and the young ones?
(Cuts in) The kind of story we are telling is set in Owerri, Lagos and Abuja; just three locations. For us to have good representation we really need to use people who can speak well, particularly the Igbo language. For me, I like to bring back almost forgotten veterans but who had contributed so much to the development of the entertainment industry in Nigeria.
Sam Loco was our original cast, which is why this film has been dedicated to him. But as God would have it, he passed on (may his soul rest in perfect peace). We started looking for somebody that would fit into his role or do better. Then Chika Okpala alias Zebrudaya came up. I have no cause for regret because he nailed the role. Also Joke Silva. These are people I had been longing to work with. Then the younger generation like Nse Etim Ekpe, who is a fast-rising Nollywood actress.
I actually studied her for almost a year before I made up my mind that I want to work with her. Wale Ojo, who played the lead role, had been an actor for over 20 years in the UK and he had done quite a few Hollywood films. There are certain elements I look for in some characters. I knew Wale could do it and I gave him a chance and he proved himself. There are so many other people like Ada Ameh, who is a core Nollywood person. She did extremely well. So, it's a blend of the old and new generation.
A Ghanaian, Lydia Forson, who is an award-winning actress, came into the picture and by general consensus we agreed to have her. She also did extremely well. So, this is also to encourage the collaboration spirit with other parts of Africa, which is why we made these choices in our cast.
What was your experience on set?
It was a bit different from Figurine. It was smoother in terms of overall operations because I had more hands. The location was minimal. No film is easy to make. Then I had a few additional hands in terms of crew, who made things a lot easier. But there are two different stories. Any comedy-drama is predictable, just like any romantic comedy. There are a few surprises that people would really enjoy in this one, but it was so difficult because we upgraded in terms of camera and format. This time we shot on Red, which was the highest digital format now after Alexa. We are fully ready for the option.
What are your expectations about the movie?
I believe this will do well or better commercially, because we just released a trailer and the noise is out there just like any of my films. But before we release it there would have been more cinemas in Nigeria. That is very exciting for me. Ikeja would have opened; Surulere, Ibadan, Ilorin, all these places would have opened.
For me, that is like an easy way to recoup your investment. More so, I have good backing from a company like Glo, where I am an ambassador. Also Blackberry, 7Up, IRS. They give us a lot of support and we all are planning to have fantastic outing in terms of premiere. I believe this will also rub off on the publicity and marketing of the film, which will help boost sales as well. So, I expect 2012 to be an interesting year.
How do you make a living since you don't act much or produce much?
I don't know, but I think God has been good. I produce one film in two years. But that one film, when it starts generating revenue sustains us to an extent. Aside that, we do equipment rental; we have cameras. I also make some income from endorsements and few other things.
But really, what has been keeping us going is the company, the production company. We do post-production and, at least, little change comes in. Don't forget that we also do documentaries for government and individuals. Before now I did films for the SEC (Security and Exchange Commission). These are some areas that yield revenue, which sustains us till we are ready to do another big film.
What have you been doing as an actor?
As an actor I have not been really doing much, not because I don't want to. Running a company is not easy and trying to make a good name is also something that can take years to plan. When you are doing these, it becomes very difficult for you to go on set and could be for 10 days or more. The office has to be run. In your head you need to be very creative as a director.
You are also chasing money as a producer, and there is family expenses and all that. But, honestly, I am looking forward to featuring in any film with good storyline, because an actor is an actor. I am also looking forward to my next film in which I am playing the lead role. I look forward to that and also featuring in other people's films.
Do you think you would have been better off if all the years you spent in banking were spent in the entertainment industry?
I don't think so. I think the years I spent in banking contributed enormously to where I am today as a businessman. So, I concur with those who say no knowledge is lost, because the business administration and corporate aspect of my life was actually gotten from those years I spent in the banking industry.
Is life now better as an actor compared to the life your dad lived?
As an actor they really enjoyed more. Their time was better and he worked more rigorously. It was more tense than now because there was no short cut. It was either film or nothing. There was no digital then. There were a whole lot of things you have to go through, and you have to invite experts from outside. You have to process abroad to get a whole lot of things done.
And for them to distribute, it was fun because they travelled around different states in Nigeria, even Togo, Benin, Cote d'Ivoire. And there was nothing like home video. So it was either you watch normal TV drama or you go to the cinema. For me, it was more interesting than now. They enjoyed it but they were more dedicated. That is why most of them died bankrupt. Some of them still alive are not really making much. But now we are beginning to blend the commercial angle with the creativity angle.
Could you tell us what happened between you and Tunde Kelani (TK)?
Nothing happened between us.
But it was reported that he said he would never work with you again, I'm sure you saw the report?
It's just that most journalists are lazy and they can't confirm their facts before writing silly and stupid things. That report would have been a positive one if they had met me to actually verify what brought about that comment. What actually happened was that we were somewhere when TK was talking about me. He was happy and delighted that even if he dies today there is somebody that would keep good cinema culture going, and he was referring to me.
So, somebody asked when we would do a collaboration, that is, Golden Effect and Main Frames Film, and he said it might never happen. Of course, it might never happen because our thinking is different. The kind of stories I tell are different from TK's. TK would rather do a film to support the Yoruba cause.
So, our directorial approach is different.
But, it does not mean we cannot work together. He had always been a consultant in all my projects. Infact, TK advises me on everything I do. So there is no way we would not work together. But for us to now say TK produce while Kunle directs, that may not work because our thinking is different. I can even call TK now for you to speak with him, because there are no grudges; nothing of the sort. So, all those stories are not true. Which is why I said some journalists are too lazy to verify the truth before writing their stories.
Why don't you have A-list stars in your movies?
Who are the A-list stars?
The likes of Omotola, Genevieve Rita Dominic…
(Cuts in) Well, maybe it's because I don't have a script that would do justice to their talent yet. When I have a script for them, why not? I always throw it open. By next year it could be A-list artistes. I look forward to working with the A-list actors and actresses. For me, if I don't see you in a film, it does not make you less a professional or superstar. So, if I don't see you in a particular movie I'll see you in another. So, I look forward to working with them.
I also learnt that you don't pay well. Is it true?
I'm sure I pay more than the average Nollywood producer in this country. But, really, nobody had ever asked me 'why are you paying me this?' because in the first place, if they don't agree to act in the film we cannot work together. So, for any actor to agree to act in a film, he must be satisfied with the pay. The A-list artistes that are always ready to work with me know that I pay well. They get better earning from my films than most other films. I pay according to what is on the budget, what is available and what the budget can accommodate. So, I pay well.
How much do you pay?
There is no fixed rate in this industry. So if I have a film I think Rita Dominic can feature in, if the budget for that role is a particular amount, I'll call Rita Dominic and say, look, I have work for you or rather we are considering you for this role and this is the amount we have on our budget. If it is okay with her, she would say, 'okay, I'll do it, I love it.' But, if it is not okay with her, she would say, 'I'm afraid I can't'.
And that is it, because you just have to work by the budget. So, it is not all about Kunle Afolayan. It is about the budget of the film. But nobody has ever turned down my offer because of money. Like Rita and I, I was supposed to be part of her film that she just finished, but because I I travelled I couldn't make it. So, you can see we have understanding. There are so much more that you can benefit from.
You are here at this time of the night, meaning you are a busy man. How do you keep your home?
Well, I'm an entertainer, and there are lots of things that come with the kind of job I do and the kind of family I have. My family understands what I do and there is no hidden thing about me. The most important thing is to have a family that understands you; and that I have.
And your wife doesn't complain?
Of course, she does. Any average woman will complain. But by the time she brings her bill and I complain, she would see that if I don't work there would be no money. She would also understand that if you rub my back, I'll rub your back.
How do you make it up to her?
When she brings the bill you'll make sure you can live up to it, because that is when she would love you more and find justification for the kind of hours you put into the job. And when you have the opportunity to spend quality time with the family, just do it and spend good time with them.
What does she do?
I'm still trying to get a job for her. She is a computer analyst, a Master degree holder. For now, she is taking care of the home.
Is it true you had your first child outside wedlock?
What is wedlock? I don't know what that means in Africa. All I know is that I have children, but I had a child before I got married. But if it's called out of wedlock, so be it.
How many kids do you have with your wife?
Won kii ka omo f'olomo (meaning you can't count the children of other people). If you come to my house, you will see all of them.
As an entertainer, how do you cope with women?
I don't really have the time. Like tomorrow I would be here from 8 O'clock and I don't go home until 11 p.m. So, no distractions!
Are you saying any woman aside your wife is a distraction?
It is even more than a distraction, because all women will complain.
Did you ever consider being a polygamist?
I'll rather stay single than be a polygamist. The women won't be able to cope with me anyway. I don't know a woman that will want to marry someone like me. The one that has already married me is managing me because I'm so attached to my work. Of course, if you want to marry someone you will court for a little while and by the time she sees that this man is all about his work no woman would want to go into such.
Did your dad's experience as a polygamist affect your view about polygamy?
My father being a polygamist was as a result of his work. Back then, if you are doing stage play, no parent will release his or her child to you because they saw actors as irresponsible people. So for any woman to join your group you must try to cajole her and see if they can marry you. And that was why the likes of Ogunde, Duro Ladipo ended up with many women.
How many wives did your father have?
He had 10.
Do you know all of them?
Yes, definitely.
What position are you among his children?
7th
How many are you all together?
We are 25.
And you know all of them?
Yes. Twenty-five is not too much.
Do you guys do any family meeting?
Yes, we do.
How do you cope as a family with 25 kids?
They are all grown-ups. You can put 25 people inside this place now. I know them all and we are contributing to the development of this country. That is the good side of it.
How did you grow up in that setting?
I believe Chief (MKO) Abiola had double of that number and they grew up together. There are so many philanthropists in Nigeria that have large number of children and they are living fine.
Did he finance all your education?
Yes, till he died.
How old were you when he died?
I was about getting into the university.
So how did you finance your university education?
I am a hustler now. I hustle, I did some labor jobs, and in short I did a lot. I won't tell you all that now. When I do my biography I'll write it there.