HOLLYWOOD CONFERS WITH NOLLYWOOD IN ABUJA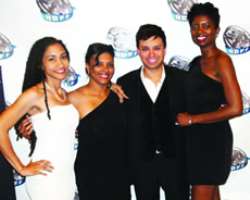 From (L) Devhon Ward, Tanasha Friar, Allen Warchol and Nene Nwoko during the Hollywood's Black Film Festival held recently in Hollywood, California.
Nollywood has gained altitude as Hollywood buffs recently visited the country as part of their mission to educate and empower filmmakers throughout the African Diaspora.
The Hollywood Black Film Festival in support of this mission is to bridge the gap between Hollywood and Nollywood by providing a platform to screen good films by filmmakers of African descent. From November 30 to December 2, the President and founder of the festival, Tanya Kersey, and a team of other Hollywood acts such as Tim Reid of the American sitcom 'Sister Sister' held a conference in Abuja, most especially, on filmmaking.
According to Kersey: 'Since the inception of the Hollywood Black Film Festival, I have wanted to go abroad to educate and empower filmmakers throughout the African Diaspora. This is our first foray into global territories and we are excited to kick off our worldwide tour in Nollywood, the third largest film industry in the world.'
Incidentally, one of the films that fascinated the organizers of the festival, Mystery of Birds by Nigerian filmmaker, director and producer in the Diaspora, Nnaemeka Madueke, was screened at the 2011 Hollywood Black Film Festival, which took place from October 27 to October 30 in Hollywood, California.
Mystery of Birds is the third and most recent film by Madueke. The film features Nene Nwoko, who also appears in Madueke's previous films like The Okra Principle, a 2010 African Movies Award Academy (AMAA) nominee and Night to Fly, Madueke's first film, which was released in 2008.
Produced by Amaechi Madueke, Mrs. Ify Agukoronye, Amobi Onoh, Kelechi Eke and Iorna Handem, Mystery of Birds was screened successively in cinemas in Dallas, Texas in May, this year to sold-out crowds. The events were also covered by The Africa Channel, a television network based in Los Angeles, California. Allen Warchol, Devhon Ward and Tanasha Friar are American actors and actress that also feature in the film.
Mystery of Birds is the riveting story of Vivian Ije-Nwamadi, who goes to the United States to be a bridesmaid in her cousin's wedding and decides not to come back to Nigeria after the wedding. She has to overcome a lot of compelling circumstances to stay in the United States including an unhappy husband who supposedly provided everything for her in Nigeria and who eventually travels to the United States to lure her back.
Efforts are being made to bring the film and other works by Madueke to the Nigerian and African audience in 2012. According to the Executive Producer of Mystery of Birds, Amaechi Madueke, the Nigerian and African audience will see a story told from fresh and raw perspective with complete interlocking grips of both the Nigerian and American hinterlands. Immense Diaspora Nigerian talents like Nene Nwoko, Uzoma Eke and Victoria Anwuzia also provide wings with which the story flies and thus makes the film a current rave in America. Allen Warchol also renders his roles as a villain in the film with unmistakable panache and ease that no doubt, conjures feelings and excitement as the film attains crescendo.
The film also lavishly features music by Diaspora Nigerian artistes like The African Kings, Sheyi Teluwo and Akin 'AKB' Durosimi. According to Yaz Ibekwe, the proprietor of TownKrier.com, a Dallas-based artist-promotions firm that has helped in showcasing Nigerian artistes such as TuFace, P-Square and Flavour to the Dallas audience: 'The American and African-Diaspora audience are really endeared to Mystery of Birds and all the other works by Madueke, leading to the selection of his works in various film festivals in the United States and beyond'.