Gunmen Kill 3 At Military-Run Nigeria School In Kano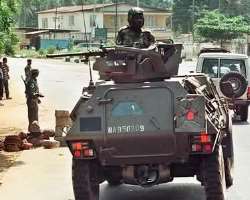 Gunmen have attacked a military-run school in northern Nigeria, killing at least three air force personnel in an incident whose motives remained unclear, an official said on Friday.

The attack late Thursday outside Kano, the largest city in northern Nigeria, involved about a dozen gunmen who exchanged fire with air force officers at the secondary boarding school.

"Our soldiers really tried to confront them, but unfortunately they inflicted injuries on four of our men which resulted in the deaths of three of them, while the other one is in hospital," said Air Commodore Sani Ahmed.

The attackers fled after about 30 minutes and it could not be determined whether any of them had been killed or wounded, he said. Ahmed said it was unclear who was behind the attack.

A doctor said on condition of anonymity that four air force personnel had been killed and another two wounded.

Nigeria's north has been hit by scores of attacks blamed on the Islamist sect known as Boko Haram, but Kano has not been targeted since the latest round of violence attributed to the group began in 2010.

The school was under heavy guard on Friday, while a series of other incidents also occurred in the area, including the shooting of a police officer.

Police spokesman Magaji Majia initially said a police station had been attacked by gunmen late Thursday, leaving an officer wounded. He later amended his statement, saying an officer had been shot and wounded on his way to work early Friday.

Residents reported that gunfire also broke out in another area on the outskirts of Kano on Thursday night, and that a neighbourhood group raided a house and found audiotapes of Mohammed Yusuf, the leader of Boko Haram who was killed in 2009.

Tapes of Yusuf's deputy, Abubakar Shekau, widely believed to be the group's current leader, were also included.

It was not immediately clear whether the incidents were linked.

The school operated by the air force in an area known as Kwa began the Christmas holidays on Friday. High-ranking air force officials were at the campus throughout the day.

It houses 110 students, Ahmed said, and had only opened in October.

"Around 8:30 pm, we started hearing gunshots coming from within the school compound which lasted for about 30 minutes," a local farmer said.

"We thought it was the students firing shots in celebration as the school closed for holidays today, but later we realised it was attacked by gunmen."

Boko Haram has been blamed for scores of attacks, mostly in northeastern Nigeria, and the group also claimed responsibility for the August suicide bombing of UN headquarters in the capital Abuja that killed at least 24 people.

There has been intense speculation over whether the group has formed links with outside extremists, including Al-Qaeda's north African branch. It is believed to have a number of factions with varying aims.

It launched an uprising in 2009 put down by a brutal military assault which left some 800 dead, then went dormant for about a year before emerging with a series of assassinations.

Bomb blasts have since become frequent and have grown in sophistication.

(AFP).