The rise and rise of Funke Akindele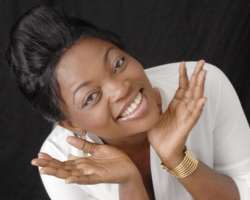 Picture this. A star and household name is asked by a friend to come for an audition. So she goes with a big bag of clothes, because, naturally, it should be a lead role. But she gets there and is told she will only be in two scenes. The fee? N3,000. She is so humiliated she can't hide the tears.
Like a movie script
Fast forward by a few years and that has-been is now the rave of the moment. Funke Akindele's personal story reads like a movie script. "When I look back today," she said recently in an interview, while on location, "I say God I thank you."
Before she became Jenifa the phenomenon, there was Bisi the phenomenon. Bisi was the lead character in the UNFPA-sponsored family television series called 'I Need to Know', which was immensely popular. The series was shown on the NTA network and syndicated across the country for four years.
After the series ended, movie stardom should have been a cakewalk. But the Nigeria movie and television industries are unlike those in Hollywood; Akindele was a star but she couldn't find work. She had to start afresh.
She began to go "from audition to audition," so broke was she sometimes that her mother had to drive her to the auditions. Still, save for 'Egg of Life' and 'Prison of Passion' where she got minor roles, she wasn't making any headway. She was almost forced to stoop to begging for roles.
"You can't rely on people," the 31-year-old said from experience. "I trusted people a lot and at the end of the day, I got heartbroken. So these days, I expect anything from anybody. That is the biggest lesson that life has taught me."
One can understand this from a woman who wept inside toilets and danfo buses because every door to stardom seemed jammed. "I remember Tayo Odueke (aka Sikiratu Sindodo) coming to meet me and saying 'Funke stop crying, one day we will make it.'"
That day came. Many auditions later, Funke made the hard decision to move over to Yoruba movies. And like a magic slipper, her fortunes changed.
Runaway success
In 2008, her movie, Jenifa - on the escapades of a village girl (Sulia aka Jenifa) desperate to make it big in the city - became such a crossover hit within weeks of release that it has become a cultural phenomenon, considered the highest selling movie in Nollywood.
"I didn't expect this level of success, I must tell you," she said. "My mother always advised me to do anything I am doing very well; there is no telling which will take you up there. So yes, I give acting and script-writing my all, but I must confess I didn't expect to be this big. What I intended to do with Jenifa was pass a message, especially to the young ladies out there. We obviously made a bigger impact."
Bigger impact is quite an understatement. Words and phrases from the movie - 'gbogo bigs gelz', 'my parry', 'yelz' 'Sulia Kan, Ayetoro Kan', 'Don jazzy e' and others - have become a strong part of pop culture lexicon, Ms. Akindele is now possibly the most recognisable actress in Nigeria, and has won a string of accolades including: Actor of the Year 2009 (The Future Awards), Actress of the Year 2009 (AMAA Awards), Best Actress of the Year 2008(City People); not to mention a lucrative telecoms ambassadorship deal running into millions of naira.
Full-on Jenifa
She never tires of the feedback from the character. "No. I am loving it the more," she insists. "In fact, I try to create new things out of the character. The movie really changed my life, so I cannot be tired." Some of the new 'things' she is creating are "The Return of Jenifa"; and a movie with that other famous comedy character, 'Osuofia' - to be produced by Kingsley Ogoro. Other plans include full-on Jenifa branding and merchandising - 'Jenifa' wigs, hair extensions, baseball caps, handbags, purses; 'bigz boy' chains, shirts and others.
However, there is still a breadth of difference between Funke and Sulia. One is a crass wannabe with few values, the other an urbane law graduate with sound diction. "Sometimes, people always want me to be Jenifa," she says. "Some are even surprised when I talk off the screen. They keep on asking, 'is she really posh?' They find it hard to believe that am not the village girl, Sulia. I handle them well. I try to be nice and smile. I also crack jokes for them with the Sulia accent."
The actress went out of her way to get that accent right. She had to go down to 'bukas' (local restaurants) in Ibadan, Osogbo and Ilorin to see 'local girls' and hear how they pronounce things like 'big girl', how they paint their faces and what she called "their brand of self confidence".
A brand of self confidence
Her own brand of confidence comes from a string of degrees including an OND in Mass Communication from the Ogun State Polytechnic, as well as a law degree from the University of Lagos. But "acting has always been my first love. I love acting. It's a talent given to me by God."
An actor, producer and director, she has so far acted in Yoruba and English language movies totalling 50 - including the multi million naira epic movie, Apaadi (Seal), in which she was lead actress and producer, working with a cast of over 200.
Whilst she calls producing Jenifa the highlight of her career, she is already focused on her next major projects - two dance movies called "Dasofunjo" and "My Choice" - in which she wants to have stars like Genevieve Nnaji. She doesn't have the money yet - but she knows she will do it.
"I tell younger actresses that Rome was not built in a day," she said. "Acting for instance; you shouldn't want to act because Funke Akindele is acting and is making money. Keep doing it even when you are not getting the roles. When they see you are focused and when you are prayerful too, you will get your chance."
And, of course, she knows what she's talking about.
Story by http://nollywoodgists.com