BETWEEN JIBOLA DABO AND MUNA OBIEKWE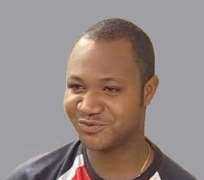 They are two famous acts in the movie world,Jibola Dabo is a veteran actor while Muna Obiekwe is a very young and handsome actor.
The story about the duo is their gay role in a Nigerian s*x movie titled "Men in Love" which has left their personalities very questionable.
It shook a lot of fans to see these two performing obscene roles between themselves in the movie where they allegedly had s*x uncountable times,baring their butts with G-string panties they wore to the full glare of viewers,leaving the rest of the parts better imagined.
What many critics frowned at is not just the role but why a man of such caliber like Jibola should indulge in such act and what moral lesson is he portraying.
The veteran actor who is a popular face in most of the award winning soaps in Nigeria is still single,though he has a failed marriage,but for the younger actor,Muna Obiekwe,one is not surprised to see him play such role and this is because until now,his acting career had suffered a major setback and he needed a role that will not only fetch him a good money but will also keep him in the news and make him relevant again on the scene hence his controversial gay role in the s*x movie which he unabashedly flaunted his naked body with his genitals partially covered in G string panties.
The actor,who had fallen on bad times basically because he was no longer getting major roles and also the fact that he was based in East,reportedly acquired a house after his role in the movie and has since become the hottest of producers who want to make s*x movies.
He also displayed such act in the movie Dirty Secret with so many male acts including Jibola but the scenes weren't as revealing as it is in the other movie hence not much fuss was made about it.The movies seem to be the most controversial movies of the year as they have generated a lot of negative comments and criticisms on different social sites.

JIBOLA DABO