Exclusive: Made In Texas: Apple's A5 iPhone Chip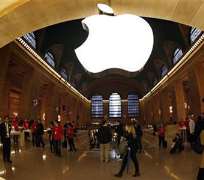 Apple Inc is famous for relying on low-cost Asian manufacturers to both source and assemble its popular gadgets, but the consumer device giant recently started receiving a critical component in its iPad and iPhones from closer to home - Texas.
The A5 processor - the brain in the iPhone 4S and iPad 2 - is now made in a sprawling 1.6 million square feet factory in Austin owned by Korean electronics giant Samsung Electronics, according to people familiar with the operation.
One of the few major components to be sourced from within the United States, the A5 processor is built by Samsung in a newly constructed $3.6 billion non-memory chip production line that reached full production in early December.
Nearly all of the output of the non-memory chip production from the factory - which is the size of about nine football fields - is dedicated to producing Apple chips, one of the people said. Samsung also produces NAND flash memory chips in Austin.
The South Korean giant began supplying the A5 processors to Apple this year from the Austin plant, the people said.
Apple declined to comment, saying it does not detail supplier relationships. A Samsung spokeswoman declined to comment on its customers and the specification of the chips made in its Austin plant.
But she said the company expanded the Austin factory to include a production line to make logic chips. The A5 is one such chip.
The powerful A5 processor, which uses technology licensed from Britain's ARM Holdings, is designed by Apple in California.
The A5 chip debuted in Apple's iPad 2 in March and now also powers the new iPhone 4S. The 120 square millimeter chip is twice as fast as its predecessor, the A4, which is also made by Samsung, according to reports from teardown firms that have taken Apple's devices apart.
TEXAS APPLE
Apart from Austin, Samsung has only one other non-memory logic chip factory, in South Korea.
Apple relies on its main contract manufacturer for gadgets, Foxconn, to assemble them, mainly in its factories in China and Taiwan.
The roaring success of both the iPad and iPhone has helped the city of Austin, where Freescale Semiconductor is based and other chip companies, like ARM, Intel and Advanced Micro Devices, also have operations.
Semiconductor companies are attracted to Austin because of a steady supply of educated employees from the University of Texas' engineering school.
Samsung has added about 1,100 jobs to support the new non-memory chip production in the factory, which produces 40,000 silicon wafers every month, a Samsung spokeswoman said.
The rest of Samsung's total 2,400 employees in Austin work in its NAND flash memory factory by the logic chip factory, she added.
The Korean company, which began the U.S. plant in 1996 to make its NAND flash memory chips, continues to produce them there in addition to the A5.
Samsung's factory is the largest foreign investment in Texas with a total investment of about $9 billion, according to Austin Chamber of Commerce.
Austin is also home to an Apple customer call center that deals with customer complaints in North America, Apple's biggest market. The Cupertino company employs thousands in that facility, who deal with calls ranging from complaints to support.
While Apple is one of Samsung's largest customers, both are arch-rivals in the smartphone and tablet marketplace. The two companies are also locked in an acrimonious patent infringement battle that spans multiple countries and products.
REUTERS