NAIRA GAINS AGAINST DOLLAR ON OIL FIRMS' FOREX SALES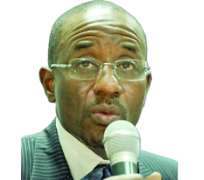 The U.S dollar sales by three energy companies, amounting to $216 million to some lenders, yesterday, provided support for the naira. This is even as Union Bank Nigeria Plc. revealed, on yesterday that as part of its recapitalization process, it plans to begin issuing N1.4 billion ordinary shares at N6.81.
The issue would be to existing shareholders through a rights issue. The lender, which is one of Nigeria's oldest institutions, was rescued by the central bank in 2009 and asked to recapitalize. Information from the bank said the rights issue will end on Jan. 20, 2012.
On the interbank market, the dollar supply strengthened the local currency to N162.20 to a dollar, up from N162.40 exchanged on Tuesday. Traders said though the central bank failed to meet all demand at its bi-weekly auction on Wednesday, dollar sales by local unit of France Total, Agip and Royal Dutch Shell totaling about $216 million and direct sales by the regulator to some lenders helped provided needed support in the market.
'The naira actually weakened to around N162.60 to the dollar intraday, but strengthened to N161.85 to the dollar after the inflows from the oil companies hit the market before closing at 162.20 due to strong demand,' one dealer said. Traders said demand remained strong in the market and could continue to keep the naira under pressure in the near term.
'We have a lot of demand from customers that have huge volume and could not get their bids through the central bank auction. These customers are forced to resort to the interbank to enable them meet their obligations,' another dealer said. Traders revealed that the central bank officials have continued to advise banks on the amount of dollars to be demanded and rate quotes to reduce pressure on the bi-weekly auction. The naira is expected to trade within the N161.90-N162.60 bands in the last days of the year as some oil companies sell dollars and the central bank sustain its direct dollar sales to some banks.
On the official window, the central bank sold $200 million at N156.70 to the dollar, same figure and rate at the previous auction on Monday. The Central Bank of Nigeria (CBN) on Monday sold a total of $200 million as against $248 million demanded at the bi-weekly Wholesale Dutch Auction Sales (WDAS). The naira exchanged at the marginal rate of N156.70 to the dollar at the official window. The highest bid rate was N156.90/$, while the lowest rate stood at N156.70/$.
An investment research company, Afrinvest (West) Africa predicts that market rates to will gradually head back up this week, as funding for the interbank foreign exchange market, bond auctions and treasury bill purchases mop up the excess liquidity from the market.