essons from Geneva — Chikwendu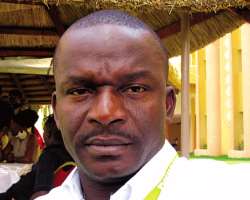 Madu Chikwendu, a former President of the Association of Movie Producers (AMP), was in Geneva, Switzerland recently as a lead speaker at a conference that was partly dedicated to the film industry and economic development of less developed countries. Organised by the World Intellectual Property Organization (WIPO), Chikwendu, informs that WIPO, an agency of the United Nations strongly believes that Nigeria still has a lot to teach the world ….
My presentation was well received
It was a very successful trip by all standards. My paper was well received, though for me there was a little disorientation because I was supposed to speak on the digital divide, by the time I arrived in Switzerland and there was a slight shift in focus, I now had to focus more on how the film industry can contribute to economic development in less developed countries.
Between WIPO and pervasiveness of Intellectual Property abuse in Nigeria
Oh! well, intellectual property still contributes to economic development. Recall that Nigeria is a global leader in direct to video production and has inspired other industries in places such as Kenya and Ghana, which started before us, but could not attain the massive industrial levels of Nollywood. There is also Uganda and Zimbabwe. Whilst the Nigerian government and her agents do not have respect for Nollywood, it is interesting to note that a specialised agency of the United Nations believes that we have something to teach the world.
Generally, I think the conference was designed to inspire other countries and also draw attention to the challenges, which include the total absence of any bilateral or multilateral treaty between Nigeria and other countries in the area of audio-visual products/services in the existing economic partnership agreement between West Africa and the European Union. Even back home, lack of coordination amongthe various agencies of government has not helped the industry. For instance why is the Federal Inland Revenue Service (FIRS), so slow, in implementing tax rebates and incentives that will attract local and foreign investments? The fact of 'pervasive IP abuse' is the more reason it has to be discussed and analyzed. I agree that the enforcement capacity of WIPO is limited, but we need national regulatory institutions such as the Nigerian Copyright Commission, the National Film and Video Censors Board, and the Nigerian Police Force to help out. For instance, do you propose that WIPO should come with a detachment of marines and close down Alaba? Within the ECOWAS sub-region, there is no single protocol on audiovisual. Even at the level of the African Union, there is none. Whereas the European countries since 1992 had the European Convention on Cinematographic Co-production. We must acknowledge that South Africa bilateral treaties and robust tax incentives have greatly contributed to its development.
I was able to exercise my mandate as Regional Secretary of FEPACI to open discussions with the Nigerian delegation to the UN, WIPO and other international agencies and specialist on online piracy, illegal broadcast around the world and counterfeiting.
So, what lessons for Nollywood
It has brought greater interest and respect internationally for Nollywood than locally. We must now migrate from our local thinking to a very global way of looking at things. That is why I have focused in certain structural issues, treaties, protocols and conventions. With the right structures, funding is very easy. We need to partner with the right people and not all these barracudas that litter the Nigerian scene.
Tackling piracy and distribution
With all sense of responsibility, I will like to say that government is what you make of it. If we think government has failed, then we have failed. Those heading the agencies responsible for our industry are our people. The Managing Director of the Nigerian Film Corporation (NFC) Afolabi Adesanya, for instance, has made films both on video and celluloid. Emeka Mba of the Censors Board was doing business with us when he was at Multi-choice. In fact, I have been eating from an on-line distribution project, he was planning when he left Multi-choice. This is how it works all over the world. Film administrators come from different places related to film production.
This would mean that there is nothing wrong with the people there. Perhaps it's time we interrogated ourselves. We cannot live our entire lives blaming other people for our problems. It is a fact that the Ministry of Information has never given the Lagos International Film Festival a kobo for nine years, yet I gather that ION Film Festival has received millions from the Ministry and other agencies.
This does not make these agencies completely bad. The industry can say what is good for the goose is good for the gander and say we are boycotting all government activities till local events and festivals and the industry are properly funded. The point is that we must go beyond grabbing headlines and insulting government officials. The industry has power, only that we refuse to use it, rather we settle for filthy lucre.
Frankly, I do not see how we can make progress when professional groups compete against themselves instead of competing in services.
Nollywood is at its lowest ebbs
Of course, it is…. it will even get worse. The butterfly thinks himself a bird. Marketers left their business to become producers and directors. They say people duped them. How many people duped them? Were these dupes the only ones in the industry? How about those of us they duped serially. I believe the industry is like the phoenix. We will rise from the ashes of death like the plantain tress. This so called death is actually a form of rebirth.
What way forward
Well, cinema is a global business and has its conventions, which we need to study carefully and adapt. We don't have respect for the intellectuals and never listen to them, so, I don't see the point. We need to professionalise urgently and get everyone to do his or her jobs properly.
This has to be within the context of prosperous and organised nation, where there is rule of law, an efficient police force, and effective dispensation of justice and so on. Once the industry is properly structured, you find out that the funding will be lying right beside you because an investor will know that a well made film will be properly distributed and if it fails, he will know why it failed. Not a situation where you make a good film and someone packs it under his bed because the movie didn't talk about vultures turning into men or his girlfriend is not in the movie.
So, he used a few copies of the movie to extract money he is owed by other distributors. Even when your film is successful, he refuses to pay you because he knows the sky will be your limit. So, he uses your money to import frozen fish, which is seized at the port. This is the story of our life.
Story by http://nollywoodgists.com