GAS SECTOR KEY TO ECONOMIC PROSPERITY- TINUBU, OANDO BOSS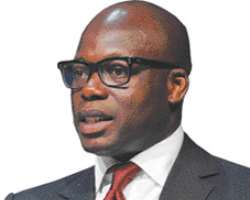 • Wale Tinubu
Group Chief Executive, Oando Plc., Mr. Wale Tinubu, says a vibrant economy, where youths are gainfully employed, remains key to a stable and secured polity. To boost employment in the country, Tinubu wants greater investments in the gas sector, to tap the resource which, he noted, was in abundance but had been left dormant or not effectively tapped for national growth.
'With our proven gas reserve base of 187 trillion cubic feet and a further undiscovered potential of 600 trillion cubic feet, Nigeria is positioned to accelerate industrialization, thereby creating jobs which, in turn, lead to political stability and security,' Tinubu said.'Countries such as Brazil and Indonesia have used natural gas as a catalyst to develop their industrial sectors and have moved from low value added production to the export of highly sophisticated products such as aircraft,' the Oando boss noted.
Tinubu said Oando, an oil marketing company he was named pioneer CEO a decade ago, had made a massive in-road into the gas sector in a bid to unlock the fallow potentials for Nigeria's economic prosperity.
One of such investments, Tinubu said, was the recently inaugurated 128-km gas pipeline from Akwa Ibom to Cross River State.
'We pioneered the private sector pipeline network construction and distribution of natural gas to industries and commercial consumers in Nigeria,' Tinubu said of the company. According to him, the various gas investments had resulted in the utilization of gas by many manufacturing industries, instead of electricity, to fire their plants with cost savings on energy cut down by as much as 50 per cent for the companies.
Tinubu, who spoke in Calabar, Cross Rivers State, is our CEO for this week. He also explained why companies should be more committed to their Corporate Social Responsibility.
Excerpts:
About Wale Tinubu
Wale Tinubu, Group Chief Executive Oando Plc. was born in 1967 in Lagos, Nigeria, and assumed the post of Group Chief Executive of Oando Plc. in 2001. He obtained a Bachelor of Law degree (LLB) from the University of Liverpool, England in 1988, and a Master of Law degree (LLM) from the London School of Economics, United Kingdom, in 1989, where he specialized in International Finance and Shipping.
He began his career as an attorney, where he worked on corporate and petroleum law assignments.
In 2002, Wale Tinubu piloted the largest ever acquisition of a quoted Nigerian company, with the acquisition of Agip by the then Unipetrol, through an international bid conducted by Agip Petroli International B.V.
Under his leadership, Oando became the first company in Africa to have an inward listing on the Johannesburg Stock Exchange, in addition to its local listing on the Nigerian Stock Exchange (NSE).
In August of 2011, Africa investor (Ai), a leading international investment and communications group, named Mr. Tinubu to the shortlist for its 'African Businessman of the Year' award, with which he was decorated on September 26, 2011, in a ceremony at the New York Stock Exchange. He received a similar award last year from Africa Business magazine and the Commonwealth Business Council. He has also been recognized as a 'Global Young Leader' by the World Economic Forum, Geneva, Switzerland, for his achievements as one of the leading executives, public figures, and intellectuals under 41.
About Oando Plc.
Oando (formerly Unipetrol) has transformed from its origins as a downstream petroleum marketing company into an integrated energy group, whose subsidiaries have achieved market leadership in their respective sectors. The Oando Group includes Oando Exploration and Production, a subsidiary involved in oil and gas exploration and production company, with off-shore, on-shore, and swamp assets; Oando Energy Services which today is into oilfield services, using industry best practices and advanced technology to deliver safe and environmentally sound operations in the Niger Delta; Oando Gas and Power which is the developer of Nigeria's foremost natural gas distribution network; Oando Supply and Trading currently supplying 20 per cent of Nigeria's fuel requirements; and      Oando Marketing, a leading oil retailer, with operations in Nigeria, Ghana, Togo, and the Republic of Benin.
Why gas resource must be fully tapped
Globally, natural gas is the most efficient energy source today in terms of heat and energy generation. It is a cheaper, safer and environmentally friendlier alternative, to other forms of energy. The role of gas in national transformation and industrialization, therefore, cannot be over-emphasised.
Countries such as Brazil and Indonesia have used natural gas as a catalyst to develop their industrial sectors and have moved from low value added production to the export of highly sophisticated products such as aircraft.
At the unveiling of the Gas Revolution in March this year, President Jonathan said Nigeria is set to join the League of Nations which have leveraged their strength in the abundance of natural gas, to transform the lives of present and future generations.
With our proven gas reserve base of 187 trillion cubic feet and a further undiscovered potential of 600 trillion cubic feet, Nigeria is positioned to accelerate industrialization, thereby creating jobs which in turn lead to political stability and security.
Our efforts to boost gas utilisation
Oando has earned its pedigree as the leading indigenous pipeline development company in Nigeria. Our Gas and Power subsidiary pioneered the private sector piping and distribution of natural gas to industrial and commercial consumers.  In the Lagos greater area, over 120 industries are connected to our 100km Gaslink grid, cutting their energy costs by as much as 50 per cent. This has tremendously improved their profitability and made them globally competitive brands able to employ thousands of Nigerians.
That is the multiplier effect of Oando projects on lives of our people. We have operated this franchise for more than 11 years now without any safety incident. On the back of the Lagos pipeline, we built a 12.15 megawatts (MW) Power Plant for the Lagos Water Corporation. This gas fired plant increased the efficiency of the corporation by 300 per cent and is saving $3.9million of tax payer's money annually that would have been spent on buying alternative fuel. It ensures that the citizens of our most densely populated state have reliable access to a clean supply of water.
In August 2011, Oando Gas and Power assumed the management of an existing gas pipeline in Port Harcourt subsequent to a rigorous tender. The pipeline which has a throughput of about 40 million standard cubic metres per year (mmscm/year), currently serves industries in Trans-Amadi area. This project is poised to inject life into the industries for which Port Harcourt was known but have declined over the years due to the high cost of energy.
We are indeed pleased to add a 128km gas pipeline from Akwa Ibom to Cross River State to our growing list of natural gas pipeline systems. Our vision is to build the largest pipeline grid in sub-Saharan Africa and we are committed to adding 100km every year to ensure we extend the gas advantage to every region. The gas revolution will be further boosted by the $2 billion Central Processing Facility we have been awarded the mandate to build in partnership with ENI, an Italian firm.
The significance of the project
The Cross Rivers – Akwa Ibom gas project is a clear demonstration that the federal government's gas revolution agenda is not only an idea whose time has come but a pragmatic programme that will deliver good dividends to businesses, the environment and the nation as a whole. First, the project illustrates the importance of public and private sector partnership in the development of critical national infrastructure. As we have seen with this project, the synergies from both parties have resulted in the delivery of yet another economic catalyst for businesses in the South South. It is clear that when the enabling environment is created by the government, businesses and our economy will thrive and create jobs.
Secondly, This natural gas pipeline project reinforces our ideology at Oando that Nigerians are capable of delivering ingenious world-class solutions to the challenges facing us as a nation. This project was conceived by the Nigerian Gas Company, midwifed by Oando Gas and Power, an indigenous company; financed by a consortium of Nigerian banks including First Bank, Kakawa, FSDH, FCMB, Access Bank, Fidelity Bank, Ecobank and Sterling Bank; executed by a Nigerian Contractor, Oilserv, using indigenous sub-contractors and talent from the two states, leading to the creation of 2,000 jobs.
This 128km natural gas pipeline was built to the highest engineering standards and excellence achievable for a project of this nature anywhere in the world. As a safety conscious organisation, we took extreme care in building this natural gas pipeline. The horizontal directional drilling technology deployed is the state of the art for a project of this scale and complexity. We installed an 18-inch diameter pipeline, and exceeded industry standards for pipe protection.