My Romance with Yoruba---Kate Henshaw-Nuttal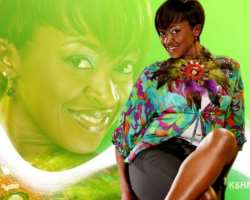 Nigerians now have the chance of savouring the beauty of live drama, as star actress Kate Henshaw-Nuttal led other artistes to present a play titled Yoruba Romance at the Muson Centre in Lagos.
The play, written and directed by Tyrone Terrence and packaged by Rosewood Theatre aims at restoring the dignity of live drama.
According to the Director of the play, the footing of the bills by Onga, a product of Promasidor Nigeria Plc made the play a success for international consumption.
Explaining the synopsis of the play, Terrence said Yoruba Romance is a hilarious comedy about the age old mating ritual between man and woman. The play employs the use of different kinds of humour to explore some of the deep-seated prejudices we have concerning intertribal relationships.
The play centred on three major acts, Chief Ladoja who is Yemi Adeyemi, Nneka Chilouzor, the role played by Kate Henshaw – Nuttal and Chief Chibuzor, Nneka's father who is Chris Ubani-Roberts.
Ladoja, an affluent middle aged farmer decides to take a new wife. His options or lack of options, narrow to the daughter of his neighbour Chief Chibuzor, a more affluent businessman. Everything looks good until a long buried land dispute between both families is unearthed. The marriage proposal takes an ugly turn and accusations and counter accusations fly.
Will they overcome their bigotry and tribal biases to celebrate the love brewing beneath the greed and intolerance or are the two families fated for a bitter and unending rivalry?
Yoruba Romance according to the director takes us on a journey of love and laughter; and at the end the audience will learn a few hard lessons.
The play is the adaptation of a marriage proposal – the 17th century Russian play by Anton Chekhov, Terrence which brings out some
inherited prejudices in Nigerian culture traversing various tribes.
"We packaged the play to dispel all these old prejudices and also we are out to make Nigerians enjoy the rich theatre culture which only stage plays can provide," he said.
Lead Actress Kate Henshaw – Nuttal said the stage play was more challenging movie to her, hence her involvement in the production. "Besides I am expected to cook in the play and this will educate most people who doubt my ability to cook. "People who come around would have a taste of my cooking seasoned with Onga," she added.
The Head of Marketing Promasidor Nigeria Plc, Mrs Biola Inawo said that Onga's involvement in the play was to restore the lost glory of stages play which used to dominate the theatre industry in the country.
She said that the involvement of Henshaw Nuttal, who is equally the face of Onga further facilitated the company's interest, as she supposed to be an image maker of the brand.
Story by http://nollywoodgists.com