Jonathan Presents N249B 2011 NDDC Budget Proposal To NASS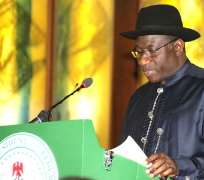 … President Seeks Approval For Sack Of Gwaska As FCC Commissioner
ABUJA, December 14, (THEWILL) - Barely twenty-four hours after presenting the 2012 budget, President Goodluck Jonathan on Wednesday presented a N249, 544, 27 billion Niger Delta Development Commission (NDDC) budget proposal for 2011 fiscal year to National Assembly for approval.
The 2011 NDDC estimates of expenditure and income which represents 4.64 percent increase compared to 2010 was contained in a letter to the Senate read by Senate President, David Mark.
The letter read in part said, "The commission has submitted a budget proposal of N249, 544.27 billion only for 2011 as against the sum of N240.58 billion approved in 2010. This represents an increase of 4.64 percent over last year's budget.
"Furthermore, the proposed budget is made up of personnel expenditure of N9,485, 69 billion, recurrent expenditure of N07, 037, 21 billion, capital expenditure of N877, 09 million and projects (development) expenditure of N232, 144, 28 billion."
Meanwhile, in a letter to the Senate, the President also asked senators to approve the sack of Alhaji Muhammed Ari Gwaska as commissioner of the Federal Character Commission, FCC for gross misconduct.
Alhaji Gwaska represents Nasarawa state at the FCC.
The letter reads, "By virtue of the provision of section 157 (1) of the 1999 Constitution of the Federal Republic of Nigeria, I write to request the approval of the Senate of the Federal Republic of Nigeria for the removal of Alhaji Muhammadu Ari Gwaska, Hon. Commissioner representing Nasarawa state in the Federal Character Commission for gross misconduct.
"Alhaji Gwaska has consistently refused to respect lawful directives, absented himself from without authorization, unlawfully retained two official cars and some strategic official files of the commission in his private custody and has remained unwilling to subject himself to constituted authority, thus creating an atmosphere at the commission which may encourage rancour in the system with its attendant negative effect on the efficiency and service delivery."
Jonathan urged the Senate to give expeditious treatment to his requests.