WHO LIVES ON MINIMUM WAGE IN NIGERIA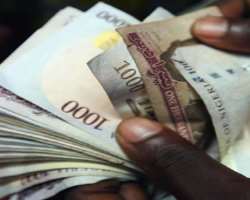 Road block is officially back in Nigeria. It never left anyway as the police could not do without their 20 naira head tax per vehicle. So much noise, directives and threats have been made from the Chief of Police down to area chiefs who collect their return from this "family support". As predicted, they have backed down. If the police can not live on their salary, one can not but wonder who can live on minimum wage.
I still remember that every pay day, some of our drivers would pay me what they borrowed the previous day or so. The following day, they start borrowing again. Some of them have two or three wives and many children. On Fridays, some of them put on nice African regalia in lace material. I could not even afford these clothes. One of the Youth Copper had warned me that if I ever appeared in one of those suffocating suits at her party, she would totally ignore me. As a matter of economics, I took many suits home with me, so I need not buy any. As for "aso ebi" count me out.
I later realized that the African regalia make you look like a prince of the soil or a "somebody" in or out of Nigeria. I have since changed but not totally out of dear pocket. African clothes were expensive for me because I had a bunch of cheap suits with me. So, it never ceased to amaze me how clerks and drivers with children can afford such a luxury. Their wives also help by buying and selling to make the home.
Needless to say, there are all forms of family support in Nigeria. The police have now found sympathy with many of the drivers because they think police are poorly paid. More important, they do not want to go through harassment that will cost them precious time on the road. There are others who are not licensed to drive on the road. So they are only too eager to satisfy the demand of the police.
Go to any office in Nigeria and try to locate a file you are interested in. There is a head tax for that. When I talk about the days when one would be so impressed, you willingly give a tip or dash to the worker, people look at you as if you come from Mars. I even read about a time, according to one of the police chiefs, when a policeman would shove your bribe back into your face because their welfare was good. I simple can not remember when police refused bribe. Sorry!
In the banks, there are some heavyweights that get prompt service while the rest of us are waiting. Some of them get the door open for them into the managers' office, while the rest of us wait and wait. It does not take too much imagination to realize that some workers hands were being greased by the heavyweights. Well a little confession, I once saw this pretty girl at the bank, my polished broken English gave me a prompt service.
You see, some of us were neglected for fear of spilling the secrets of money sharing at work. If you wonder out loud what the hell was going on. There are some standard answers. They said many of you came home rich and do not the need the pennies they share among themselves. After all, without making a month salary, many of you already brought cars, clothes and furniture. So what else do you want? That was hard earned money from "gburu" before 419 or ABC's 20/20.
There are doctors and nurses who direct patients to their private clinics. Some even refused to see patients who have never been to their clinics. The same is true of mechanics. At SCOA or Leventis and other repair shops of repute in those days, mechanic would give you their cards directing you to workshops.
As a court clerk in those days, some of my coworkers had houses already, with high school certificates. We were foolishly obsessed with traveling out anyway, why take stupid chances? One of them who got caught lying as a judge intermediary sold all his houses and still end up in jail. Oh yes, some judges and magistrates are greased by clerks, lawyers and policemen acting as intermediaries. That I knew, and I have no reason to believe that it has not got worse.
One can not be faulted then for asking who live on their salary. Look at the fees paid in those private schools and tell me who takes that type of money out of his salary. I do not know what they teach the kids, more than how to speak in foreign accent. At the end of it all, those kids can neither be understood in Nigeria nor in the Countries they were trained for. Like some of us, they can neither live in Nigeria nor outside Nigeria.
My brother used to work in one of the Boards in charge of some allocations. When a friend of mine heard that my brother was there, he traced him home. He was disappointed that my brother lived in a modest house, and concluded that this one "never saw anything straight". I asked him why he never got any allocation. He said a bunch or a click were in charge of allocations. They tell them to leave tiny crumbs alone since he came from a good home. Good home my foot. They would ask you if you could survive in jail as they were ready to die there.
It boils down to a few apples messing up our Country. They have entrenched their dare devil mentality on the rest of us and are ready to die fighting for it. A former military head of State put it this way – if you planned a coup, be ready to die for it if it failed.
Majority of Nigerians are clean. Indeed, majority of Nigerians do not live in the big city economy of "cash and carry." But in a Country where source of food, water and animals are polluted or encroached upon by the desert, there are fewer to go round. People tend to flock to greener pastures in neighborhoods causing conflicts, or check out of the Country.
If the minimum wage is meaningless, how can we effectively tackle corruption? It is becoming obvious that we may be working on symptoms alright but missing the root cause of our problem. The difference between the wages of the very poor and those at the top is just too wide in terms of welfare, enumeration and estacode. More money does not mean more products, if we all feel the pinch of higher prices, the rich will wise up. I know people who call on Tsunami to wipe us all out so that our children can start all over again. Revolution? Not in Nigeria please!
Written by Farouk Martins, Omo Aresa. [email protected]
Disclaimer:

"The views/contents expressed in this article are the sole responsibility of the author(s) and do not necessarily reflect those of The Nigerian Voice. The Nigerian Voice will not be responsible or liable for any inaccurate or incorrect statements contained in this article."
Articles by thewillnigeria.com