Olympus Reveals $1 Billion Balance Sheet Hit, Stirs Merger Talk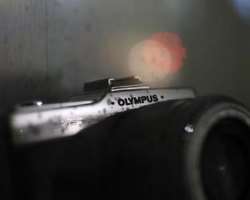 OLYMPUS CORP'S DIGITAL CAMERA IS SEEN THROUGH A SHOW WINDOW WHICH BEARS RAIN DROPS AND REFLECTS LIGHTS FROM TRAFFIC AT AN ELECTRONIC SHOP IN TOKYO DECEMBER 6, 2011.
Japan's disgraced Olympus Corp ironed out its crooked accounts on Wednesday after a 13-year fraud, with a $1.1 billion dent in its balance sheet triggering speculation it will need to merge, sell assets or raise capital to repair its finances.
The 92-year-old maker of cameras and medical equipment filed five years' worth of corrected statements, plus overdue first-half results, just hours before a Tokyo Stock Exchange deadline that could have seen it automatically delisted.
The most recent restatement, for end-June 2011, showed an 84 billion yen ($1.08 billion) reduction in net assets. Olympus added that as of end-September, its net assets were just 46 billion yen, down from a restated 225 billion yen in March 2007.
It also revealed a net loss of 32.33 billion yen for the six months to end-September, further fuelling talk the once-proud firm would need to move quickly to shore up its balance sheet or risk becoming prey to a takeover.
"Most probably Olympus has to increase capital. It's best for the company to merge with others rather than rebuild by itself," said Ryosuke Okazaki, chief investment officer at ITC Investment Partners.
Ousted CEO Michael Woodford, who blew the whistle on the loss cover-up and is campaigning to get his old job back, said that if reinstated, he would move fast to recapitalize Olympus.
But he said he favored private equity or a rights issue over a strategic alliance. Rights issues - where existing shareholders are issued warrants to buy new stock - are rare in Japan.
"You have to look at improving the capital structure of the company. Because of the litigation risk, you couldn't do that publicly, so you have (as) options a strategic alliance, private equity or a rights issue," Woodford told Reuters.
He said a strategic alliance would lose Olympus its independence, "which I think the employees most of all would not like.." Olympus President Shuichi Takayama has said he may sell assets or accept a capital tie-up to bolster the capital base.
Olympus has been dogged by rumors of bid interest from rivals, such as fellow endoscope makers Fujifilm and Hoya, or from private equity since it sacked its British chief executive and the scandal broke in October.
The stock, which has since lost about half its value to about $4.7 billion, closed down 4 percent on Wednesday.
RELIEVED, BUT NOT OUT OF THE WOODS
"The company might consider recapitalization because 46 billion yen is a very small amount of equity," said Nanako Imazu, an analyst at CLSA in Tokyo. "Any significant change in earnings to the downside or any significant change in the yen versus the dollar or the euro is a big risk."
Olympus' debt is about 14 times its equity, an extremely high ratio that compares to below 1 for camera and office equipment maker Canon Inc.
Some investors were at least relieved that Olympus had met the deadline to fix its accounts, without having slid into technical insolvency at any stage. Olympus also assured investors it was able to secure continued funding.
"This is extremely positive for Olympus as it can avoid getting delisted after meeting the deadline to submit its earnings," said ITC Investment Partners' Okazaki.
Other investors, though, remained wary, noting that the exchange could still delist Olympus if it deemed the past misrepresentations of its financial health were large enough.
"Although liabilities had not exceeded assets, it does not change the fact that they were window-dressing and, since the amount involved is so big and the period of time this was going on was so long, it's difficult to say what the Tokyo Stock Exchange will do," said Fujio Ando, senior managing director at Chibagin Asset Management.
"I would not say that fear of delisting has disappeared."
The Tokyo exchange said after the announcements that it was keeping Olympus on its watchlist for possible delisting.
Some of the restated accounts also came with qualified opinions from auditors, with KPMG AZSA LLC noting it had been unable to confirm all the money flows involved in the fraud.
"We were unable to get sufficient and appropriate proofs for auditing on specific assets and amounts," the auditor wrote.
"REALISTIC CHANCE"
Olympus triggered the crisis on October 14 when it sacked Woodford, who immediately went public with his doubts about murky past M&A deals. Woodford is now appealing to shareholders to support his comeback as part of a complete board renewal.
The board has committed to resigning over the scandal, but wants to choose its own successors before quitting, setting up the prospect of a proxy war between its own candidates and those being assembled by Woodford as part of his campaign.
"The shareholding balance is such that there is a realistic chance we could win a proxy fight," Woodford said earlier. But he added that such a battle would cause a split between foreign and Japanese shareholders and he hoped it could be avoided.
"I think it would be harmful because it would show potentially Japan institutional investors are a club," Woodford said about a possible proxy battle.
Three big foreign shareholders - Southeastern Asset Management, Harris Associates and Baillie Gifford & Co - have said they back Woodford's bid to be reinstated.
"It continues to be clear that management and the board must change as soon as possible," said Josh Shores, a London-based principal at U.S. fund manager Southeastern Asset Management, Olympus's largest foreign investor.
"Olympus needs a credible board with independent directors providing oversight of the clean-up and company revamp," he told Reuters. "The involvement of Mr. Woodford will be a strong sign that the fix will be done in a thorough and transparent manner positioning Olympus for a strong future."
But Japanese institutional investors appear worried about whether he can win over the company's employees as well as his plans to turn the firm around.
Woodford said he was willing to meet Takayama at any time, but added incumbent directors were too discredited to be in a position to choose their successors.
He told Reuters he would probably be the sole foreigner on his list of board candidates. If he lost a proxy fight for control of the company, he would likely abandon his efforts to change the company, he said.
A rare foreign CEO in Japan when he led Olympus, Woodford has sought to soothe concerns about his plans for the firm, and was due to appear on a live Internet broadcast late on Wednesday as part of his effort to woo employees, investors and the public.
"I want no part in selling Olympus or breaking it up," he said, adding he would not close the struggling camera business.
"People say the 'gaijin' president would shut it," Woodford said, using the Japanese word for foreigner. "I wouldn't."
($1 = 77.8450 Japanese yen)
REUTERS