Nigeria's Best Kept Beauty Secret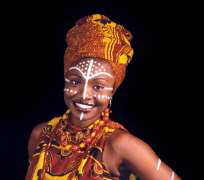 When Moabong Oku left Nigeria 16 years ago, one beauty aid she brought with her was shea butter. It's made from the nut of Africa's karite tree, indigenous to some 20 countries in the dry savannah belt, called the Sahel, which stretchesfrom West Senegal to Sudan.
"We use it for absolutely everything," says Maobong, 42, a dancer, drummer, teacher, and mother of two. "Cooking, moisturizing, conditioning hair, treating skin irritations like eczema, rashes and acne, even treating colds."
For centuries African women of the Sahel have gathered shea nuts, drying, crushing and boiling them to collect the oil that floats to the surface, which they then churn. The resulting fat, which has a consistency like soft, thick butter, is rich in natural emollients–and has even been shown by modern science to have antiseptic, anti-inflammatory and antimicrobial properties. A recent study confirmed that the African tradition of applying shea butter around the nose during a cold also works as a decongestant.
"We even melt it, mix it with salt and drink it to cure a cough," says Maobong, who always brings back some of the butter made by local women on her annual trips to her home town of Calabar in southeastern Nigeria. "It is the best moisturizer ever–it makes skin glow."