I Like My Freedom –Alex Lopez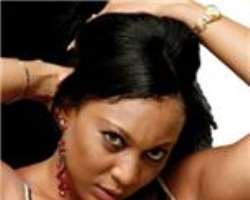 Sultry and unassuming actress, Alex Lopez, is one woman that has proved her worth in the Nigeria movie industry.
Alex of Brazilian and Nigerian parents, first made her debut to stardom in 1993 after she competed in the Silverbird organised Most Beautiful Girl in Nigeria (MBGN) and emerged second runner up.
Since then, she has not looked back.
Another opportunity soon came her way when she got involved with the screens and appeared in one of Zeb Ejiro's flicks, Domitilla.
With brilliant performances in flicks like Piccadilly and Daughters of Eve, Alex has remained in the spotlight, though she literarily left the scene to get engaged in farming before returning with a sitcom that runs on Galaxy Television.
"Sometimes you just have to take a break at some point in your life, strategise and try new things. I left at a time that the industry was going through a stage and I was also going through a stage. I was growing up and I felt I should try out something new so I went into poultry farming.
"I have always farmed even as a girl growing up in my village in Obosi, Anambra State, where we raised chickens, made garri from cassava, reared goats and others. So, with that experience, I went into chicken farming, where I had top clients like UAC and indeed, it was a success," Alex said.
The Nollywood stunner and humble personality, said one thing she likes most is her freedom, which is just her way of life.
"I really like my freedom. I'm very independent and I'm a single mother, who is raising a grown up son. And I don't think I'm lacking anything," Alex said.
What has she got to say about her looks, which many see as wild?
"Looks are simply deceptive. People should endeavour to look beyond what they see. My personality is not shallow. You shouldn't judge by how the package is, rather judge by what's inside. I'm homely and humility dwells in me," the alluring single mother said.
Alex, who says her relationship with her Brazilian father was very cordial until his death, has a grown up son that she single-handedly raised.
"I have a very strong bond with my son and I love him and we are very close. He is my best friend. The challenges of raising a child single-handedly are enormous. It's not easy bringing up a male child but the secret is making him close to you and discuss every issue under the sun with him.
"You have to be an attentive parent, you have to be proactive, take sometime out of love to explain certain things to him. You have to sense what he is going through and reach out to him so that he would be encouraged to do same. My son and I laugh and talk a lot.
"Whenever I am on set, he calls me and says,'mum, where are you? What are you doing? I miss you so much!' He is my boyfriend. I even discuss my scripts with him," Alex said glowingly of her son.
Story by http://nollywoodgists.com