WAIT FOR PAPA AND GRANDMA TO RESCUE YOUR FUTURE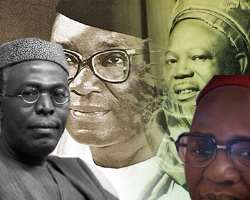 Wait O! You hear. There was this rally in Nigeria to protest and some youths were disappointed that Wole Soyinka did not show up. Very soon, they will be waiting for Gani Fawehinmi and Tai Solari from the grave. These grandfathers and mothers were fighting since they were your age. Countless lost out on university education and are not remembered today, not to mention those that lost their lives in protests.
Ezeogwu, Issac Boro and a host of other were your age when they challenged the power of the day. The corruption some of them were fighting then was the ten-percenters. It has gone from ten percent bribe to hundred percent plus ten if you want to be considered for the next contract. We were all here and growing gray as corruption went from "dash" to bribe to family allowance with complacency of the silent majority.
How old was Aminu Kano, Ahmadu Bello, Azikiwe and Awolowo when they rose against the British? They were younger than Bank-Ole that brought another dimension to corruption as the Speaker. Another young man, Salisu Buhari, as a Speaker got a bogus degree that gave a prestigious university a bad name and got pardoned by the head of State. Young men got into conspiracy with old cargoes to ruin their future.
Many of these young men are too busy with I-pods, I-phones, race cars on normal roads running into poor pedestrians, and other latest gadgets as long as it is foreign. Others are too absolved with extremist religions from foreign countries. If it is not foreign to Africa, it is not good enough. All we do is wait for a dropout from some university that has captured the world with his native intelligence while we decry ours, even those that made planes and cars or generate electricity out of our scraps.
There is a clear difference between the university students of those days that rise against injustice and oppression and many of the students of today. The poor and the rich students were able to go universities. Today, politicians are making it difficult for those that are very intelligent but poor from attending universities. It is almost impossible to get into a well-funded university since most of them are privately funded demanding high tuition fees.
The youth in our universities these days are increasingly the children of the filthy rich that can afford stupendous school fees totally out of the reach of naturally gifted and deserving students from poor homes; because World University is not cheap they claim. Those poor from rural areas whose parents are either farmers or on subservient salaries handed down by the rich will not be able to get educated and be well informed about their rights to the future.
But do not forget that the Agbekoya in those days were farmers with native intelligence.
Consequently, we may be producing students that are not sympathetic to the plight of the poor and may not see anything wrong with the lives of their rich parent that have been starving the Country to death. No wonder they appear in different fora to shout down progressive students of conscience. Politicians that enjoy free education or very minimal school fees are today champions of fees beyond the reach of the poor.
Some of us see a conspiracy to change the conscience of the university campuses so that these students will not rise and demand justice as beneficiaries against their rich parents. Any university that is functioning well in Nigeria today are started and funded privately either by moneybags or foreign religion, and the old ones are starved of funds by the same owners of private universities. If university is not for everyone, let the abilities of students determine who attend, not by only deep pockets of their parents.
What we have today are youths that are very versed in Christian and Muslim religions where most of the poor children can be groomed without paying. Most of them are sponsored by foreign donations. This is not new. In those days some of our friends that went to these schools intentionally dropped out instead of becoming clerics. They then completed their education or sat for General Certificate of Education elsewhere.
Either by well-funded universities with imported lecturers or by religious schools with clerics of foreign religion, our students lose because Government funded universities cannot compete. The consequences of these disparities are students that are loyal to their school of thoughts shortchanging men of straight leadership in the Country. Many of them only see Nigeria in particular and Africa in general through the prism of others.
Those youths that are left feel the pain of oppression as their colleagues in these other institutions but the method of their expression could be self-destructive to the very communities they are trying to uplift. They brandish a double sword that cut themselves and innocent people. In short, what we are left with is chaos without goals of moving the Country forward. Indeed, Nigeria is regressing.
Tam David-West, Olisa Agbakoba and Femi Falana days of rebellion and protest started as young men that run deep in their blood today. But for how long can their aching bodies carry them without new blood at the forefront of the struggle? Division between poor and rich students that can aspire to university education must make our youths understand that they are being used against one another so that the fat cats can get away with what actually belong to their future.
History has also taught us that even when the rich monopolize higher education; it does not guarantee safe passage for their parents. The children of the rich have risen and will continue to rise against injustice. Instead of hijacking a plane in a foreign country to avenge foreign cause, there are urgent needs at home. Charity begins at home.
Written by Farouk Martins Aresa.


Disclaimer:

"The views/contents expressed in this article are the sole responsibility of the author(s) and do not necessarily reflect those of The Nigerian Voice. The Nigerian Voice will not be responsible or liable for any inaccurate or incorrect statements contained in this article."
Articles by thewillnigeria.com