'Jonathan Should Make Public Audit Report On NNPC' --ANEEJ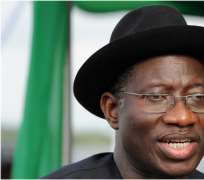 Huhuonline.com understands that an advocacy group, Africa Network for Environment and Economic Justice (ANEEJ) is seeking that President Goodluck Jonathan should make public the recent audit report on the activities of the Nigerian National Petroleum
 Corporation (NNPC).
The group which recalled that the Senate Joint Committees on Petroleum (Downstream), Appropriation and Finance had probed the operations of the NNPC with sundry revelations disclosed that over 100 firms in the downstream sector and construction industry had allegedly shared N1.42 trillion between January and August this year.
A statement issued by the Executive Director of ANEEJ, Rev. David  Ugolor, and made available to huhuonline.com, alleged that the audit report on NNPC revealed that it  'deliberately' turned the corporation into an established drain pipe on the nation's oil and gas earnings, and an avenue for perpetrating corrupt practices and fraud.
'We call on President Goodluck Jonathan, to as a matter of urgency, officially release the Audit report on NNPC without any further delay to salvage whatever may be left of the administration's image in the eyes of Nigerians and the international community. We have been calling on President Goodluck Jonathan and the Ministry of Petroleum Resources to release the Audit report commissioned since July last year but we were not taken seriously. Now look at the startling revelations that keep tumbling in from the Joint Senate Committee sittings probing the operations of the NNPC. This is a national embarrassment.
"We commend the Senate of the Federal Republic of Nigeria, particularly the Joint Committee on Petroleum (Downstream), Finance and Appropriation carrying out this novel oversight function. We urge them not to be deterred as Nigerians are solidly behind them. We do not want to take the media version of the report yet that is why we are renewing our call on President Jonathan to do the needful. We learnt that the report has been hidden all these while, this is not good for a country that has signed on to the Extractive Industries Transparency Initiative (EITI) and was early this year, recognized as EITI compliant country', the statement said.   Normal.dotm 0 0 1 10 57 huhuonline 1 1 70 12.0 0 false 18 pt 18 pt 0 0 false false false
KPMG Report Reveals Ways To Salvage Moribund NNPC - Huhuonline.com
Meanwhile, the recommendations espoused in the consolidated detailed findings in a 40 page KPMG Audit report on the Nigerian National Petroleum Corporation (NNPC) on the forensic review of the Corporation activities, may have pointed out sundry measures to salvage the NNPC.
While the audit report disclosed that 'Production /Commercial Allowable volumes have been observed to consistently exceed OPEC quota of 1,673,000 BBL/D for the six month period (April to September 2010)', the audit panel also recommended a 'Proactively initiate steps with OPEC to review and agree/ update current quota'.
The report explained that 'non-compliance with OPEC quotas by OPEC countries could exert a downward pull on crude oil prices which results in reduced revenues for the government', adding that Nigeria may be 'fined for exceeding OPEC quota' and could 'negatively impact on the country's oil/gas reserves projections and plans.'
It however observed that the NNPC has kept a 'poor data management' since there was 'no centralized location for storing electronic copies of historical production and allocation data', instead 'the information are stored on personnel (individual) workstations' which may have resulted in the 'potential loss of historical production information in event of staff turnover or system failure.'
On Pricing, the report observed 'variances in crude sales price especially with regards to domestic sales to PPMC. Crude sales to NNPC were at lower prices (lower than approved Official Selling Price) than to other off-takers which is not in compliance with Government's directive', adding that the development was in 'potential conflict of interest with NNPC's Crude Oil Marketing Department (COMD), acting as agent to Government and being under NNPC who is also its customer.'
It also revealed that 'NNPC is invoiced in US$ for domestic crude allocations but is expected to remit the equivalent Naira value to the Federation Account. However we observed that exchange rates used by NNPC were lower than the average exchange rates published by the CBN during the review period.'
According to the audit report, the 'exchange rate variances for 2007, 2008 and 2009 were estimated at N25.7 bn, N33.8 bn and N26.7 bn respectively (using CBN rates for the month of transaction)', resulting in the 'significant underpayment of domestic crude cost to the Federation Account', even as NNPC had claimed that they 'obtained the exchange rates from CBN via phone but there was no document to substantiate the claim.'
On its findings in the issuance and renewal of contracts terms, the audit report observed that 'the practice of renewing crude sales contracts on an annual basis was not in line with leading practices' and could result in 'discretionary renewal of contracts' since 'the Evaluation criteria for renewal of contracts were not clearly stated in the contract document.'
'In 2009, when there was a need to reduce the number of off-takers from 28 to 21 due to supply constraints, the basis for shortlisting the off-takers appears to be based on discretion as we were not provided with any documentation to support the selection process.
'We observed some instances where crude oil was allocated to off-takers who were not on the approved list, like Ovlas Trading (2,852,316 barrels and 906,269 barrels in 2007 and 2008 respectively), Petrojam (2,818,914 barrels in 2007), Oil Fields (950,166 barrels in 2007) and Zenon (906,000 barrels in 2008)', expressing fear that crude may have been sold to non-credible off-takers', the report stated.
It however recommended that 'the list of approved off-takers should be reviewed before the execution of crude oil sales agreement/ contract by relevant officers in NNPC and that off-takers should be certified to be on the approved list before loading clearance is processed and approved for off-takers' vessels.'
On production monitoring, the auditors found out that 'NNPC and Joint Venture (JV) operators do not perform reconciliation for gas/ feedstock sold to Liquefied Natural Gas' and 'potential for misstatement of NNPC's entitlement/ revenue from the sales of gas/ feedstock to NLNG.'
It therefore suggested that a 'Periodic reconciliations should be conducted between NNPC and JV operators to detect and resolve errors / exceptions from the sales of NLNG feedstock.'
Its findings on Lift and Ship Hydrocarbons pointed out 'late processing of marketing clearance to load vessels due to delays in the receipt of Letters of Credit (LCs) from Off-takers', and attributed delayed receipt of LCs to both Off-takers and NNPC which according to the report 'causes delays in the lifting of crude oil by vessels at the loading terminal.'
While recommending a defined clear penalty and its enforcement for all lifters, the report suggested that Off-takers should be made to comply with the stipulated timelines of LCs: 5 days before laycan date and Marketing Clearance: 3 days before laycan date.
The report also noted 'Long cycle time for billing of off-takers due to delays in receipt of relevant documentation from zonal office. However, off-takers are expected to remit payment irrespective of receipt of bill.' And observed 'Non-compliance with guidelines relating to defined margin of error on LC value (+/-5%)'
'Variance between the invoice value and LC value exceeds the defined 5% error margin. Examples include invoice number COS/02/PPMC/026/08 (Difference of 10.8% i.e. Cargo valuation and LC value are $95,396,587 and $85,000,000 respectively).
'We observed that crude oil sales and collections are not promptly captured on the accounting system. Typically, these transactions are captured in the accounting system after the transaction have been approved at FAAC meeting which is typically two (2) months in arrears', due to 'Inaccurate sales and collection information on the financial systems and multiple data sources as data is predominantly managed outside the system.'
On remittance of funds into Federation Account, the audit panel said 'From our review of the cycle time for the remittance of domestic crude cost into the Federation Account, sweeping of funds took an average of 110 - 120 days as against the 90 day credit line offered to NNPC', explaining that the implication of such negligence is that Federation might be deprived of timely utilisation of funds', due to 'non-compliance with contractual agreements' and 'unauthorised extension of credit to NNPC' but called for a review and update remittance process to ensure timely remittance of funds.
The report further stated that 'The process of selecting Suppliers for importation of products is documented but the documented procedures are not adhered to. We observed that the Evaluation Committee only recommends prices for the importation of petroleum products while actual allocation of importation contracts (especially volumes) appear to be at Management's discretion', recommending that 'Management needs to empower Evaluation Committee to evaluate and determine shortlist for approval based on predefined and approved criteria, review and update policies and procedures for issuance of importation supply contracts, clearly define criteria for allocation to ensure transparency and objectivity and selection should be based on defined criteria.'
It noted that 'Evaluation of quotes/ bids from suppliers appears to be a redundant process because agreed product import prices are based on projected in-house estimate irrespective of prices quoted by suppliers' and that 'There is increased possibility that suppliers might bring in adulterated petroleum products based on uncompetitive prices.'
The audit report disclosed the 'Non-compliance with approved policies/procedures. We observed that contracts for the importation of petroleum products were awarded to companies/ suppliers not listed in the approved prequalification list used for the fourth quarter 2008 importation tender', like Astana Oil Corporation Limited, Natural Energy and Oando.' The report recommended that NNPC should 'Update and enforce lifting policies to ensure actual lifting volume and value do not exceed defined LC margin of error; Conduct periodic review of LCs against cargo valuation to proactively identify need to update LC value', since three is the 'potential risk that contract could be awarded to Suppliers who do not meet defined requirements.'
Although it suggested that 'Only Suppliers on approved list should be invited to tender', it advised that 'Evaluation Committee should review bids received and only evaluate bids from approved Suppliers, adding that 'Approval of importation supply contracts and payments should include a compliance review to ensure only approved Suppliers are utilised. Any exception should be duly documented and approved by the GMD. Conduct of periodic independent reviews by Audit to ensure adherence to policies and procedures.'
'Based on our analysis of product importation profiles between January 2008 and June 2010, average demurrage days were estimated at 31 days. Demurrage payments are made by NNPC; We observed that NNPC was liable to pay an aggregate demurrage of $198 million during the review period translating to an average of $6.6 million per month.' But the auditors recommended that NNPC should review and update planning process for receipt of product imports to enable more efficient planning of cargoes and minimise delays, explore long term solutions to resolve jetty facilities constraints, like upgrade of jetty facilities products specifically with regards drafts and improved local production of petroleum products.
Further in its findings the audit panel discovered 'Late payment to Suppliers of imported petroleum products where the importation contract stipulates the settlement of supplier's invoice 45 days after submission of Notice of Readiness (NOR) to NNPC whereas actual payment to Suppliers ranges between 220 and 240 days after the receipt of NOR. The late payment was attributed to cash flow issues as a result of the Corporation's inability to recover costs incurred on product importation.'
Its implication is that 'NNPC is liable to pay interest charges as a result of late settlement of invoices from suppliers. The current interest charges from 45 days after NOR is LIBOR + 1%. This increases cost of sales and negatively impacts NNPC's ability to recover cost under the current pricing regime.' Ensure proactive capture of invoices on the system to recognise obligation and enable effective payment planning.' The report therefore harped on the need to safeguard an aggressive and complete collection of crude oil sales to improve cash flow as well as review import process and pricing to ensure products are imported in a cost effective manner and costs are fully recovered by crude sales revenue.
On Refine Crude Oil the report said that it observed 'Low capacity utilization of the refineries where capacity utilization for the four refineries in 2008 and 2009 are estimated at 25.3% and 11.2% respectively', adding that 'The low capacity utilisation was attributed to partial/ complete shutdown of processing plants at the refineries as well as pipeline vandalism', owing to continued dependence on imported petroleum products to supplement local production, high refinery overheads with low profitability, and suggested a turn-around-maintenance of refinery processing plants to improve capacity, ensure continuous monitoring/ surveillance of pipelines to reduce the frequency of occurrence of pipeline vandalism.
While stating that the processing fee currently earned by the refineries for processing crude oil into petroleum products is not sufficient to meet the total operating cost of the refineries, the report noted that 'Our analysis of the financials of WRPC and KRPC between 2006 and 2008 revealed that the revenue earned from processing fee was significantly lower than the operating costs resulting in losses for the two refineries during the review period.
'We also observed that the processing fee is determined by a committee constituted by the GED, Finance and Accounts and the last review was carried out in 2005. However, the basis for determining the processing fee rates does not appear to be in line with current realities.'
The report however suggested the need to conduct a detailed review of the refineries operations to determine solutions to boost capacity, improve operating efficiency/ effectiveness and reduce operating cost and non-performing assets and review processing fee to ensure optimal pricing and enable better recovery of operating cost since the refineries are not autonomous as they continue to depend on the Corporate Headquarters for funding. However, long term funding by Corporate Headquarters is not sustainable.
'We observed that NNPC's subsidy claims and PPPRA's verification are based on volume of petroleum products available for sale (volume of products imported and actual production from the refineries) as against duly verified volume of products lifted out of the depots (volume of petroleum products sold) as stipulated in the subsidy guidelines.
It had also noted the potential risk of subsidy payment on products not consumed by end users due to losses from pipeline vandalism, theft e.t.c., stating that 'A rough estimation of subsidy payment on product losses for the period under review (2007 - 2009) is estimated at N 11.8 billion and that risk of payment of subsidy on locally refined products which is not the intent of subsidy may encourage inefficiencies in the refinery process.' and advised on ensuring more clarity with regards interpretation and application of subsidy to achieve the intent of the law and enforcing compliance with the provision of the approved guidelines for the administration of Petroleum Support Fund (PSF).
'Subsidy claims should be remitted to NNPC from PSF by the Federal Ministry of Finance (FMF) based on claims approved by PPPRA. However, NNPC " s practice is to remit to the Federation Account, amount payable for domestic crude less subsidy claims. It then requests the FMF to pay the subsidy amount due to it (from PSF) into the Federation Account being the balance of the cost of domestic crude.
'There are instances of delays in receipt of subsidy advice from PPPRA resulting in the estimation of subsidy claims by NNPC which results in over/ under-deduction from proceeds of domestic crude sales. For example, N25bn was deducted as subsidy estimate for September 2009 from domestic crude sales proceeds while PPPRA approved a subsidy of N23.8bn. N35bn was also deducted as subsidy estimate for November 2009 but PPPRA approved a subsidy of N21.3bn. Over-deduction for these two months amounted to N14.9bn. However, only N4.2bn was swept into the Federation Account by NNPC as adjustment for subsidy claimable in the two months. Based on our analysis, subsidy over-deduction for 2007, 2008 and 2009 was estimated at N2.0bn, N10.3bn and 16.2 bn respectively.'
It advised that the Federal Government should formally communicate approval of remittance of crude sales net of subsidy to NNPC, PPPRA, FMF and CBN; define and re-enforce deadlines for submission of subsidy advice by PPPRA and that deduction from the proceeds of domestic crude sales by NNPC should be solely based on amount advised by PPPRA.
Further in its findings on transporting products from refinery/ Atlas Cove to depots and the sub optimal utilisation of depot storage facilities, the report said 'DPK tanks (storage capacity of 18,000 cubic meters) at the various PPMC Depots within System 2B (Mosimi Area) have not been utilised for the past three years as DPK has not been supplied through this system. However, the tanks are said to be in good condition. Product losses due to incessant pipeline vandalism continue to hinder the transportation of petroleum products. Petroleum products losses through pipeline vandalism stood at 110.38 metric tones in 2009 and the monetary value was estimated at N8.1 bn.'
'We observed discrepancies in the volume of petroleum product import receipt at Atlas Cove Jetty in June 2010. While MTD reported a volume of 193,160 MT, Mosimi Area Office quoted a volume of 184,989 MT for the same transaction. Further evaluation of reports presented by MTD and Mosimi Area Office revealed that MTD " s figures were misstated.'
Although it observed that it has an implication of delays in product distribution due to pipeline shutdown/ downtime which could impact product availability, incurring additional cost on pipeline repair and increased cost of transportation of products using trucks, the report calls for continuous monitoring/ surveillance of pipelines to reduce the frequency of occurrence of pipeline vandalism, deployment of technology to ensure proactive detection of pipeline leakages.
According to the report, 'Currently, NNPC is in the process of implementing an ERP solution (SAP) which is expected to address the challenges being faced with non-integrated/ stand-alone systems. There is a need to ensure that functional requirements meet and address the issues currently faced before the implementation can be successful.
'Based on our review of consolidated debtors' age analysis report for Marketers, overdue debts as at 22nd August 2010 are estimated at N1.36 bn and N5.5bn for Independents and Major Marketers respectively. We observed that there are no defined guidelines for provisioning of bad debts from products sales which is not in line with leading and generally acceptable accounting principles. As at August 2010, we observed that transaction entries relating to payment and product lifting by Coastal Marketers for June and July 2010 have not been captured onto the system. We observed that documents are not adequately filed and some documents are stacked in bags.'
Following the trend, which had created difficulty in retrieving supports for past transactions, the auditors wants NNPC to 'implement procedures for ensuring effective and timely filing/storage and back up of documents, explore implementing a document management system to reduce the use of paper in the process flow, ensure periodic system back-up to minimize data losses as well as ensure speedy implementation of ERP solution (SAP) across the Corporate Headquarters as well as the subsidiaries.