GOVERNOR BLAGOJEVICH GOES TO JAIL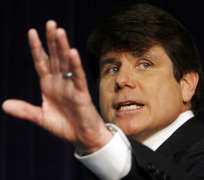 Last week a Nigerian attorney friend of mine who is based in the U.S. forwarded a report to me of the sentencing of former Governor Rod Blagojevich to fourteen years in prison. Mr. Blagojevich, a former governor of the state of Illinois – President Barack Obama's home state – was arrested three years ago and charged with several felony counts, including solicitation of bribe. The major allegation stemmed from the mercurial, dashing former governor's attempt to sell Mr. Obama's erstwhile Senate seat.
Once Mr. Obama was elected president, it fell to the governor to appoint somebody to serve out the remainder of Obama's term as a senator. Mr. Blagojevich saw an opportunity to cash in. He directed his aides to find him persons willing to make hefty financial donations to him in exchange for the privilege of assuming the senatorial seat vacated by President Obama.
Officials of the Federal Bureau of Investigation (FBI) wire-tapped the governor in numerous telephone conversations where he outlined his determination to make the (material) most out of his gubernatorial prerogative to appoint Mr. Obama's interim replacement. Then, having painstakingly built a case against the then governor, FBI agents swooped on his office on December 9, 2008. They handcuffed the governor and marched him off to court where he was formally arraigned.
For the record, Governor Blagojevich was considerably popular at the time. Despite anecdotal suspicion of his corruption, many residents of Illinois rather liked his gregarious style, youthful good looks and allure. If he was deficient in substance, he more than made up for it with an arresting, charismatic personality. But U.S. law enforcement authorities were far from impressed. They had proof that the then serving governor had broken the law, and they went after him.
Released on bail, the embattled Mr. Blagojevich tried to use his charm offensive to fend off federal authorities. In front of TV cameras that trailed his every movement, he proclaimed his innocence and boasted of his preparedness to beat the case against him. He deployed his swagger in an effort to keep his job through his trial. He insisted that he possessed the political capital and skills to run the state whilst awaiting trial.
Thanks, but no thanks, said outraged residents of Illinois. They demanded that the indicted governor step down and devote his attention fully to governing his impending case. The former governor was so thick-headed he didn't even know the game was up after many of his own political associates mutinied, joining the chorus of calls for his resignation. He stubbornly stuck to his office until outraged representatives in the Illinois legislature impeached him by a vote of 114-1. Then the state senate found him guilty of the charges, and gave their imprimatur to his disgraceful exit.
Brash and unconventional as they come, Mr. Blagojevich then took to the airwaves and launched a blitz of television campaigns to proclaim his innocence. He even briefly starred in a reality TV show. His body language was of a man who made light of the serious allegations against him. Well, all that posturing ended once the trial commenced.
It's instructive that the former governor never collected a dime in bribe money in exchange for President Obama's seat. Still, federal prosecutors established at his trial that supporters of Jesse Jackson, Jr., a Congressman and one of the candidates coveting the vacant Senate seat, were willing to hand the former governor as much as $1.5 million in campaign contributions in order to snag the seat.
At first, the ex-governor seemed to treat his trial as another day in the soapbox. But the jury was neither amused nor impressed. They stunned him – and struck fear in him – by finding him guilty on 18 counts, including the crucial one of seeking to auction off Mr. Obama's seat. The judge then came down hard. "The jury didn't believe you and neither did I," U.S. District Court Judge James Zagel told Mr. Blagojevich. It was only at that moment of truth that the former governor struck a contrite note. "I want to apologize to the people of Illinois, to the court, for the mistakes I have made," said the former governor before his sentencing. Citing the fact that he had not actually profited from his schemes, his lawyers made a case for leniency. But the judge sided with prosecutors who remarked that the convicted former governor had "further eroded the public's confidence in government and government officials." They added: "He lied repeatedly, concretely, and on issues that went to the heart of the case and he lied on every episode that he was questioned."
The Blagojevich case holds out several lessons for Nigerians. Misguided apologists for official corruption in Nigeria are quick to point out that the country doesn't hold a monopoly on that crime. "There's corruption in the U.S. and in Europe," they state with gusto.
As arguments go, that line is at once true and facile. It may well be true that the tendency to corruption is part of the DNA of many humans. But those who argue that corruption exists elsewhere conveniently forget that the more important question is whether Nigeria responds to corruption the same way other serious-minded nations do. A serious nation sets out to combat acts of corruption, to stem them, and to punish corrupt officials who are caught in the act.
That's where Nigeria lags. If Blagojevich were a Nigerian governor, the police would not have bothered or dared to tap his telephone conversations. Law enforcement agents in Nigeria hardly snoop around to catch governors at some illicit scheme. The only chance of that happening would be if a governor were somehow at odds with the president – who would then order the Inspector-General of Police to make life difficult for him.
No Nigerian governor would have been arrested and dragged off while still in office. That's because Nigeria has an odious constitutional idea called executive immunity. This concept shields governors and the president from prosecution as long as they remain in office. The U.S. constitution also has the immunity clause, but its protection of governors and the president from court proceedings is limited only to the legitimate business of office. Once a U.S. governor or the president commits a felony, the immunity clause ceases to apply. That's why former President Bill Clinton was tried for perjury and other felonies related to the Monica Lewinsky sex scandal. And that's why former Governor Blagojevich was arrested in his office.
Were a Nigerian governor to do as Blagojevich did, nobody would have accused him of any crime. Ah ah, the man didn't even touch one dollar, his supporters would protest. Others would argue that it's God who put him in his position, and that God wants to prosper him. His town's people would take out newspaper adverts accusing faceless enemies of engaging in a demonic plot against "our esteemed son." A delegation of traditional rulers from the reeling governor's area would troop to Abuja to importune the president to order the police (or EFCC) to halt the harassment and embarrassment of one of their number.
And even if, by some freak accident, a Nigerian governor were charged with seeking to profit from the sale of a legislative seat, the accused would easily insist on occupying his gubernatorial seat through the trial. He would then mobilize his security vote and (if necessary) other sources of public funds to bribe the presiding judge to find that no crimes were ever committed. Shortly after a trial, an accused Nigerian governor's name would top the list of recipients of national honors – an official form of apology to him for putting him through the inconvenience of a trial. And a way of the Nigerian state proclaiming, "This is my beloved son in whom I am well pleased."
Written by Okey Ndibe [email protected] Follow me on twitter @ OkeyNdibe.
Disclaimer:

"The views/contents expressed in this article are the sole responsibility of

thewillnigeria.com

and do not necessarily reflect those of The Nigerian Voice. The Nigerian Voice will not be responsible or liable for any inaccurate or incorrect statements contained in this article."
Articles by thewillnigeria.com