Spanish, South African Mountain Climbers Arrive Nigeria For Mare Festival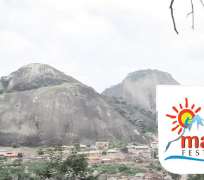 Some of the international mountain climbers invited by the Ondo State Government to participate in the third annual Mare festival have arrived the state from Spain and South Africa. The Commissioner for Culture and Tourism in the state, Mr. Deji Falae, made the disclosure in company of his Information Ministry counterpart, Mr. Kayode Akinmade at a news conference.
Falae explained that the annual three-day fiesta which will start on December 15, would also involve Marathon race, Arts and cultural display, and entertainment. He described Idanre Hills as a heritage and reference point for Yoruba civilization which has not been threatened by western culture and urbanization.
The commissioner also unfolded plans by the state government to mount a technical device either as a lift or a cable car to afford elderly people, an opportunity to get to the top of the mountain and see the old town on top of the rock. He said government had set $6, 000 as the prize money for the winner of the mountain climbing, while the second place would get $4, 000 and the second runner takes home $2, 000.
Meanwhile, the 10-year-old boy who won the first edition of the rock climbing competition in 2009, Master Sunday Akinwumi and his father, Pa Joseph Akinwumi, have returned from a trip to Dubai in the United Arab Emirate being part of the prize for wining the competition aside the offer of scholarship.
Pa Akinwumi explained that apart from the trip, his son has started enjoying scholarship from the state. The little Akinwumi described his journey to Dubai as an eye opener as it afforded him an opportunity to interact with international mountain climbers. Akinmade said the state had developed a strategy towards the development of tourist attractions across the state.