Nigeria is been ranked among most corrupt nations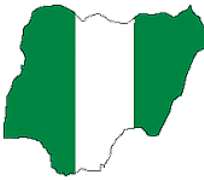 Nigeria has been ranked among most corrupt nations in a Corruption Perception Index (CPI) report released by Transparency International on Tuesday. Nigeria tied with three other Sub-Sahara African countries with a score of 2.5, ranking 130 in the world and 27 in the region.
The 2009 edition score 180 countries, the same number as the 2008 CPI. The ranking immediately put Nigeria in the category of most corrupt nations as countries that score 3.0 or above are perceived as relatively less corrupt. CPI is a measure of domestic and public sector corruption. The other countries in the same bracket with Nigeria are Mauritania, Mozambique and Uganda.
Botswana ranked 37 in the world and 1st in the region with CPI score of 5.6. It was followed by Mauritius (CPI score:5.4) and Cape Verde (CPI score: 5.1) while Somalia came at the bottom of the rung, ranking 180 in the world and 47 in the region with CPI score of 1.1, followed by Sudan (CPI score:1.5) and Chad (CPI score:1.6).
The report says "of the 47 countries reviewed in the region (the same as in 2008), 31 scored less than 3 (out of 10) indicating that corruption is perceived as rampant, while 13 scored between 3 and 5, indicating that corruption is perceived as a serious challenge by country experts and businessmen."
The report noted that "as in 2008, only three countries scored more than five: Botswana, Mauritania and Cape Verde." It further observed that "as in previous years, the CPI results show that corruption has a particularly stark and devastating effect on countries that face ongoing political stability and high levels of poverty."
The CPI is a composite index, drawing on 13 different experts and business surveys.
Highest scorers in the 2009 CPI are New Zealand at 9.4, Denmark at 9.3, Singapore and Sweden tied at 9.2 and Switzerland at 9.0. These scores reflect political stability, long-established conflict of interest regulations and solid, functioning public institutions.
The report stressed the urgent need on the part of governments to renew their commitments to implement anti-corruption reforms and legislation. "With government efforts to tackle corruption seen as ineffective across the region, it is clear that there must be renewed commitments to implement anti-corruption reforms and legislation and to introduce preventive measures, including education programmes. This will help to restore public trust and contribute to a reduction in the levels of corruption throughout the region."
On the occasion of the official release of the report, the Chair of Transparency International (TI) Huguette Labelle explained the rational behind the exercise. "At a time when massive stimulus packages, fast-track disbursements of public funds and attempts to secure peace are being implemented around the world, it is essential to identify where corruption blocks good governance and accountability, in order to break its corrosive cycle."
Story by http://nollywoodgists.com