SOMETHING IS WRONG WITH AKUME -SUSWAM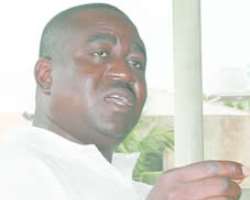 • Suswam
Governor Gabriel Suswam of Benue State was among the 11 governors from the North that graced the two-day conference on Peace and Unity in the North, held in Kaduna and organized by the Arewa Consultative Forum (ACF). The conference started on Monday, December 5, 2011, and ended on Tuesday, December 6, 2011.
Before he left for Makurdi, the Benue State capital, he had a brief interactive session with a select group of Journalists in Kaduna, where he fielded questions on the theme of the conference and politics in Benue State, with a verdict that Senator George Akume's head needs to be examined, for asking him (Suswam) to pack out of Government House.
Excerpts…
There have been reported cases of communal clashes between some parts of Benue and Nasarawa States. What steps have you taken to arrest the situation?
The crisis that happened along the borders of Benue and Nasarawa States is not between Benue and Nasarawa like you have observed. It was a crisis between the farming communities of Benue and Fulani herdsmen. You know that the Fulanis are not staying in one place. They are nomadic people who move from one place to another and because the Benue people are fundamentally farmers, the crisis is as a result of trespassing by the Fulanis on the farm land. So, this has generated quite a lot of problems. I have tried to address the issue and set up committees, but when you think that the crises are diminishing, something will happen and the crisis will erupt again.
Now, because the communal crises are happening in Benue, the Fulanis too, ran to Nasarawa State and launched attack from there. This is why it thus appears as if Nasarawa is part of it. I want to say that Nasarawa indigenes are not part of what is happening. Fundamentally, it was Fulanis who ran from Benue to Nasarawa that are attacking the people of Benue. I have been talking to the governor of Nasarawa. As a matter of fact, we drove together from Abuja to Kaduna and most of the issues that we have discussed are how we can address the issue of communal crisis.
Now, the northern governors too have taken a number of steps to proffer solutions to these problems. First, you know there is a fast growing and expanding population in the North, just like any other part of the country. That has created a problem because we now have more people competing for the limited space. If we have a situation like that, it means that the issue of job creation, especially on the farm, is required. But because the younger populations do not necessarily want to be engaged in manual farm like our fathers, we need to engage in large scale commercial agriculture where you can employ people to work on those farms and make a living from it.
So, in Benue, what I am doing now is to try to go into serious commercial agricultural farming. I have laid the foundation and by next year, a lot of activities in the area of commercial agriculture is going to start in Benue for us to be able to address the issue of communal crisis where you will now involve the communities to work on the farm.
Another step is for us to continuously educate our people that we are one, so that if there are issues of conflict, it should not necessarily need to degenerate into destruction of lives and properties. We must also be very alert to security issue in our various states. I have tried a lot, in that respect, otherwise Benue would have turned into something else. You know the state happens to be a volatile one and so within the first four years, I was able to contend with that.
Now, when we had elections, lots of people disguised under election to be committing act of criminality in the name of politics. That, I am also addressing now. The initial tension that was in Benue is diminishing now because we are now addressing these issues as act of criminality and no longer politics because before now, once you make any arrest, people would say, it is political persecution. So as time goes on, within the next six months or so, that issue of criminality will be wiped out.
Looking at the northern region as a whole, what do you think can be done to ensure the kind of peaceful co-existence that existed during the era of Sardauna, return to the North?
Look at the former northern region, it was ruled by one person who was a premier. He was able to appreciate and understand the cultural differences of the different ethnic groups in the North and addressed them. Now, people are in a state that is less than the former northern region and they cannot distribute the same equity and fairness to people, so this is one of the problems.
As big as we are, we must be very fair. I give example of Benue; if you come to Benue, the Idomas that used to agitate a lot about marginalization and other political issues are no longer agitating like before again. This is because I looked at the situation and decided that there must be fairness and equity in the affairs of government. So, today, we don't have that level of agitation in Benue again. That is the kind of thing that we need to do, to reduce the tension and reduce crises in the north.
We must also appreciate the fact that religious differences should not keep us apart. Like I said, we have people like Sardauna. Under him, we had Christians and Muslims who co-existed. He was able to run a government to the satisfaction of everyone, irrespective of their religious or ethnic backgrounds. But today, most of our leaders have become religious bigots and people are not happy with them. So, we must put religion aside and look at our unity as people.
Look at Kaduna State, Kaduna that used to be the nerve centre of activities, not just for the North, but the entire country, is today, not what it used to be. How many people want to come to Kaduna? To come, and do what? People who are in Kaduna today are now leaving, first, because of religious crises in Kaduna, second, because of collapse of the textile industry and other industries like Peugeot Automobile Industry (PAN). Why have they collapsed? These are the issues. We must sit down together as leaders of the North now and look it critically otherwise, down the road, it's going to be worse than this and the crises will be worse than what we now have. So, if as leaders, we must come together and say 'look, there must be fairness in the manner that we administer our various States,' and this must be seen and manifestly done, not by paying lip services to it alone. A lot of people pay lip service on these issues, when they go back, they are something else.
Is it true that you're trying to install an emir in Makurdi that will dance to your tune?
(Laughs) Gentlemen, this is pure politics; there is a process of appointment. I know it has never been on my table. But somebody somewhere was playing politics with it. I have never conceived that idea and it is not within me to do that. I am not a traditional ruler, so it is not within my powers to do that. I don't think the paramount ruler or the council of chiefs in Benue has ever conceived that. It is not true and there is no iota of truth in the allegation.
The ACN recently accused the PDP of being behind a church attack in Kwande local government of Benue State, where a chieftain of the ACN, was to be honoured. What is your take on this?
ACN has become very desperate in Benue. Almost everything, they now play politics with it. If somebody goes to the toilet, they play politics with it. So, they are playing politics with everything in Benue.
The incident in question happened incidentally while I was in transit. I was not actually aware of the incident until someone called me and said that there was an incident in Kwande Local Government where a church service was disrupted. It is unfortunate that I saw the Action Congress of Nigeria (ACN) candidate who contested against me, saying I was behind it. If someone who sought to rule over people at that level can lie, it is amazing.
That very Sunday, I was in Osisa attending a church service where I was invited by the Speaker of the State House of Assembly. I did not even stay till the end of the event because we had Governors' Forum meeting in Abuja by 5pm of that same day. So, I concluded the church service but I didn't go for the reception. I drove straight to the airport in Makurdi and took a flight to Abuja. The ACN is saying I was in Kwande at the time that the incident happened.
These are the kind of lies that ACN has been peddling at the highest level. But when I sought to know what happened, I discovered that the Chairman of Kwande had invited the Rev. Father in question, to say that the security situation was not good enough for them to go ahead with that service. But they defied all security reports. He followed it up with a write up, and he showed me all the documents. He announced on radio, he invited the Rev. Father and said that from the security situation that he has, that service should not hold, and wait till the security situation improves. But they would not listen.
The ACN has now found a veritable ground where they go to insult me because mostly, they are after me. When the chairman of local government said that the security situation was not good enough, they would have listened. But they went ahead, and in the end, there was crisis, and you want to hang it on me.
For example, as a governor, if the President wants to visit the State and I said I am not satisfied with the security situation, he will wait until I am satisfied with the security situation. I believe that he will listen to me. But because people want to play politics with everything, even when they are informed that security situation is not okay, they will go ahead just to play politics with it. This has been happening since the election.
When they went for the church service in Kwande, they insulted me and a week after that, there was violence in the headquarters of my own local government where all the PDP members' houses were burnt and destroyed.
ACN goes to churches now and incite people. We have addressed this issue; I have spoken with the church leaders, for them to avoid playing politics in churches. I have never gone to any church to play politics.
All what I do, is to appeal to people to remain one, politics as far as I am concerned have come and gone. Government has been formed and we are running a government. And we are in court; so, let us listen to the verdict of the court, instead of engaging in violence.
But you see, the ACN cannot wait because its stock in trade is propaganda and violence. This is the situation that has been going on.
At what point did you and your predecessor, Senator George Akume part ways?
In politics, at times when you disagree even on issues based on principles, you can part ways. As far as I am concerned, for the first two years, we were together and to some large extent, we managed ourselves. Sometimes, we disagreed quietly on a number of issues and so when we could no longer manage ourselves, we went our separate ways.
Talking about disagreement on number of issues, one of the elders in Benue State once said that they were fighting you because you have refused to take 'care' of them the way Akume did. These elders have suddenly gone underground. Is it that you're now taking 'care' of them or you're now able to manage them well?
You know, it is only in Nigeria that instead of people talking about provision of infrastructure for the general good of the people, they are talking about taking care of few individuals. This is government property; it is not for the few individuals.
What does the constitution say about government? It doesn't say that you should share money among the people; it doesn't also say that you shouldn't assist people where it is necessary.
But once there is a group of people who believe that government's money
must be shared to them as a right, I will not get along with such people because at the end of the day, it is the governor who will be held responsible for any wrong doing. When there are issues of corruption or embezzlement, they will not mention their names. They will even deny that you didn't give them anything. It is the governor in question that will account for the money. You can't go and account for the money and say 'look, I gave this one N5, 000, I gave that one N10, 000, no.' It will be that I provided this project for the good of the people.
If you go to Benue today, you can give a testimony that Benue money is well spent. In fact, I am trying to get across to the President to come and commission some of the projects before Christmas. That is the way government's money is supposed to be spent. Nowhere in the world where a group of people will sit down and say that government's money should be shared to them. That is not to say that in situations that are genuine, you will not assist. But the way some people sit back at home and say look, every month, you take government's money and share to them at the expense of the things that you are supposed to provide for the people, is unacceptable to me.
And I made that clear when I was campaigning.
I said Benue lacks infrastructure. Today, there is no single local government in Benue that you go, that you will not see one project or the other going on there. There is no single local government in Benue that lacks social amenities. I believe that those are important because if I share this money to few people, how many are they? Benue is 4.7 million people. These people you are talking about do not even constitute one per cent of that population. If you take the money and share to them, what do you do with the over 4.69 million people? If you go to any local government, there are road projects going on, there is rural electricity, and there are schools. Now, we have budgeted N4 billion for schools. We are going to advertise for the construction, rehabilitation among others of schools. These are jobs in thousands, because we are going to cover the entire schools in Benue State. If I take the money and share to people, what will I do with the schools? That is not to say that I am not assisting people who need genuine assistance, I do it. But to carry government's money and share to people, that I will not do.
In your first tenure, you focused on building rural roads, what will be your focus, in this second tenure?
I have said it on a number of times that I concentrated on building a lot of rural roads and also rural electricity, because the state is an Agriculture state. For you to even reduce poverty in villages, there must be commercial activities for people to create wealth. How do you carry out commercial activities if there is no road for people to move? So this was the wisdom.
Now, we have the Benue Commodity Marketing Board to coordinate the activities of farmers in the area of pricing of the commodity so that the rural people are not shortchanged. We also have association of people who market their products in villages, we brought them together in order to coordinate them and encourage them to go into Cooperative societies which they have done. We have accessed NI billion Agric loans which we are going to give serious minded farmers so that they will go back and improve on their farms. That will to a large extent reduce poverty in the village. So, my focus in the second term is to reduce poverty in the villages.
Your eight years tenure will come to an end in 2015. Are we expecting power shift to Idoma, that is the people of Zone C?
It is not in my capacity as an individual to determine where power goes at the end of my tenure. It is a collective thing that the majority of the stakeholders will sit down at the appropriate time and take decision on. It is the stakeholders that will determine where the next governor will come from. So, as an individual, even
as governor, I don't have that latitude to sit down and say 'look, this is the person.' We can only do that collectively and I believe in collective leadership.
Recently, the former governor of Benue State, George Akume declared that you should pack out of Government House before it is too late, so that the ACN candidate can take over. What will be your reaction, considering the avalanche of petitions against you, including the certificate forgery allegation?
For any person to suggest that a duly elected governor by the people with overwhelming majority should pack out of Government House, I think there is something wrong with that person. If there is nothing wrong with him, he will not say that. I want to dismiss it as noise making. I was elected, legitimately by overwhelming majority. PDP had an overwhelming majority in Benue during the April polls.
We started the election with National Assembly, out of 11 House of Representatives, PDP has eight, ACN has three. Out of three senators, PDP has two, ACN has one. Out of 30 members of the State House of Assembly, we has 21members until the court verdict that dropped one, but we still have 20 members, while they have 10. On what grounds will ACN say it won elections in Benue? By overwhelming majority, I won the governorship election. In the presidential election,
PDP won, so, on what ground can the ACN say it won governorship election? Benue is a PDP State. So, to say I should pack out of Government House is not only noise making, but it goes to show that ACN is desperate for power just for the sake of it. And these are people who have had opportunity in the past to govern, but had nothing to show for it. There is nothing they can show that they have done in the past. So, they are looking for a way that they can come back and be running government from behind the scene.
Now, they have moved to the issue that I forged result. This is totally laughable. They are doing all these just to lower my esteem in the eyes of the public. I completed my secondary education from Government College, Makurdi, in 1982. That year I went to School of Basic Studies (SBS) Makurdi, from where I went to University of Lagos to read law. I went to University of Lagos in 1986 and by 1989 I graduated. Government College is at the centre of Makurdi. You can just walk through and results are there for you to check. None of these people that alleged I forged result have ever been to that place to ask the principal if they can take a look at the result because the master sheet of all the results, are in the Government College where I graduated.
At the time that we finished in 1982, I was very young. But if you look at the result, they are parading that I forged, there is a passport of a matured person on it. When I finished secondary school, I was 16 years old. At that time, no result carries any passport on it. When I finished secondary school in 1982, I went to SBS, I went to UNILAG and I won election twice.
What will then be the motivation of forging result in 2005? It doesn't make sense; they want to diminish my integrity before Nigerians. But I know somebody will definitely go to prison for forging result because since I have my own result, any other person parading any other result means that he has a forged result. It is just a campaign of calumny against me for the sake of politics. It is purely politics.