A DAY FOR HUMAN RIGHTS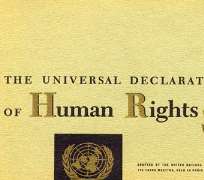 December 10th has been set aside to mark the 60th anniversary of the Universal Declaration of Human Rights, UDHR, across the globe. It is going to be a big day for Amnesty International and, other watchdog organizations, and more importantly, for everyone who stands up for human rights worldwide. It's no less a milestone.
No even minded observer will skip a stone across the pond without acknowledging Abraham Lincoln's nobility and the role he played as a U.S president who drew the curtain on the decadent slave trade and fought for the abolition of slavery while keeping the country united.
The same is applicable to former South Africa president, Nelson Mandela – the hero and saint of modern African's democratic symbol – who understands what it means to fight against enormous odds and succeeded; Winston Churchill, the first to recognize and warn others of Adolf Hitler's danger to freedom and human rights; Angela Davis, a leader, author, and professor who has fought for decades for human rights; Professor Wole Soyinka, the first African to win Nobel laureate for literature in 1986, who was imprisoned for years for voicing his opposition against the pogrom, called the Nigeria Civil War; Sir William Wallace, a freedom fighter who fought for the Scottish people in the 1300s, Mohandas K. Gandhi, who used non-violence means to free India from British rule; Dr. Martin Luther King, Jr. who inspired young men and women during the Civil Right Movement in the U.S; Desmond Tutu who collaborated with Nelson Mandela and Walter Ulyate Sisulu to end apartheid regime in South Arica; Dalai Lama, the religious leader of Tibet and an emblem of Tibet's hopes for freedom; Vaclav Havel, who despite censorship, wrote plays that helped keep the hope of freedom alive, both in the former Czechoslovakia and present Czech Republics; Aung San Suu Kyi, who dedicated her life to freeing Burma from a repressive dictatorship and creating democracy without violence; Chief Chukwuemeka Odumegwu Ojukwu, who took up arms against the Nigerian state for the killing of his kinsmen, Igbo people in Northern Nigeria; Grace Lee Boggs, who advocated for the marginalized people of United States for over 70 years, until her death in 1993 at the age 95; Ken Saro-Wiwa, the eco warrior, who was executed by General Sani Achaba for defending the rights of his Ogoni people to benefit from mineral exploitation in Nigeria; Ulyssess S. Grant, who helped to calm the U.S after the Civil War, just to mention but a few. Ever since, the world has not remained the same again.
The date is chosen principally to honour the United Nations General Assembly's adoption and proclamation, on 10 December 1948; being the first ecumenical and global institution to enunciation edict for human rights. As profound as the declaration was some 60 years ago, we are well aware that it is not the beginning of man's aspiration to assert his independence as it relates to his encompassing freedom, neither was the declaration going to end man's inhumanity to man, all of a sudden.
At any rate, the fight for justice and human rights by all well meaning groups is not totally a straw in the air, in spite of obvious drawbacks. For instance, over 85 countries worldwide have legislated and are implementing the Freedom of Information FOI, Act; giving effect to some of the grave concerns of human rights activists who have constantly voiced their opposition in the face of brutal repression. Sweden turns out first among the pack of nations that passed the Freedom of the Press Act into law as far back as 1766; followed by Finland in 1951, the United State in 1966, Mexico in 1977, and Netherlands and France had theirs in 1978 respectively.
There is no doubt that these countries along with 79 others have a lot to venerate, harp and chitchat about. Freedom of information acts establish a ''right-to-know'' legal process by which requests may be made for government-held information to be received freely and governments are also typically bound by a duty to publish all its transactions in order to promote openness in the system. But can that be said of many African or Arab countries which have been hanging out their dirty pants of poverty disgracefully at American and European's door steps?
The major undoing of the underdeveloped countries and the reason poverty persists like chameleon feces – no matter the effort to stamp it out – stems from ''governments' behind the door transactions'', euphemism for blatant corruption! It's common place to see trained and able bodied men scavenging for food in repulsive conditions in the midst of plenty in these nations that lack respect for human rights, while the rulers continually violate their oath of office by obeying the country's already spiteful laws in the breach. They serve serpent for breakfast in place of omelet and scorpion for dinner in place of wheat meal, and get away with difficult evacuation of their bowels system as a result of constipation.
The organized butchering and targeted slaughtering of protesters going on across Arab countries, ignited by a single individual who merely demanded for decent treatment from Tunis authorities is a living testament that there is much to celebrate in the year 2011. The year would pass as the most memorable year of the century. Twenty-six-year-old Mohamed Bouazizi, living in the provincial town of Sidi Bouzid, had a university degree but no work. To earn some money he took to selling fruit and vegetable in the street without a licence.
When the authorities stopped him and confiscated his produce, he was so angry that he set himself on fire. Rioting followed and security forces sealed off the town. The following day, another jobless young man in Sidi Bouzid climbed an electricity pole, shouted ''no for misery, no for unemployment'', then touched the wires and electrocuted himself. A day after, rioters in Menzel Bouzaiene set fire to police cars, a railway locomotive, the local headquarters of the ruling party and a police station. After being attacked with Molotov cocktails, the police shot back, killing a teenage protester.
That was the last straw! Tunis people and other suppressed citizens under the yoke of iron fist dictators saw the occasion as an opportunity to vent their long bottled anger against deprivation, fear and repression. It was Zine El Abidine Ben Ali, the president's patronage system gone awry. Dampened by eroded political consciousness – the patronage system – as the bases for contractual relation with the governed – he came crashing to his face, at the foot of his country men and women, whose back he rode time after time to power.
This is one sign that suggests that the draconian structures put in place by the authoritarian regimes across the globe to prevent people from organizing, communicating and agitating is gradually fading. There is the need to completely cast off the fear of self-appointed rulers, despite the real risk of arrest, torture and possible death as demonstrated by Tunisians, Egyptians and of late Libyans which saw the breakdown of long-standing devil's compact.
My optimism that Nigeria will get it right someday fades each time I conceptualized the whole gamut of statecraft and the attendant docility that accomplish the attitude of the exploited. I'm yet to see corresponding protest in Nigeria, Africa's most populous nation, where the unemployed youths who are victims of an educational system that has succeeded in providing them with qualifications that can't be used and expectations that can't be met. It's inexplicable that the alienated citizenry, who had been roundly disillusioned, bluntly rejected, forcefully raped and utterly cut off still having confidence in a government which has squandered over $20 billion excess crude account in the last five years at the centre! Yet the nation is saddled with a pit of degradation which mutedly answers the name Senate – 109 of them –only when it is time to share $75 million each annually, excluding other perquisites.
As we mark the 2011 Human Rights in 2011 with injustice still rankling and roaring across the firmament, many a pessimist would feel that the twirling is half-hearted. They certainly would call to question the effort the United Nations has made over the years to accentuate the plight of the vulnerable, oppressed and traumatized in the society as to warrant the gala fêting. Though UN has acquainted itself demonstrably on the global plank on a number of human rights issues that has become current in governmental and non-government circles, through pronouncements that bordered on the bases and quality of life, yet lots needed to be done.
In 2006, UN tagged poverty as human rights issue and took steps to not only engaging a struggle against it, but also abhorred and criminalized its prevalence anywhere it may be found. UN High Commissioner for Human Rights, Louise Arbour said in 2006, thus: ''Today, poverty prevails as the gravest human rights challenge in the world. Combating poverty, deprivation and exclusion is not a matter of charity, and it does not depend on how rich a country is. By tackling poverty as a matter of human rights obligation, the world will have a better chance of abolishing this scourge in our lifetime…..Poverty eradication is an achievable goal''.
As a matter of speaking, this is one of the finest moments of the UN in recent times; creating awareness in the minds of millions of its following who primed its engagement as a sacrosanct enterprise. But as a matter of fact, there is a total disconnect between the UN and the very ordinary people, the poor, the denizens of the deep, and the voiceless, whose voices have been stolen, and taste the bitter pile of injustice – segregation, hunger, unemployment, poverty, repression, maiming, rape, torture, even death – by the day.
A day set aside for the commemoration of human rights out of the 365 days in a year is not enough. It should be a daily affair like sleeping and waking since victimization of the vulnerable happens every passing second of the day.
** Erasmus Ikhide is the Senior Special Assistant (Media Affairs) to Edo State Governor Adams Oshiomhole, Nigeria.
Disclaimer:

"The views/contents expressed in this article are the sole responsibility of

thewillnigeria.com

and do not necessarily reflect those of The Nigerian Voice. The Nigerian Voice will not be responsible or liable for any inaccurate or incorrect statements contained in this article."
Articles by thewillnigeria.com