President Jonathan Gives Out N5B Robot Bomb Detector, Other Gadgets For Aso Rock Security!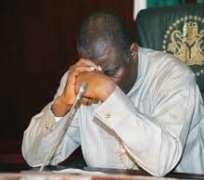 President Goodluck Jonathan has made the security of the nation's seat of power, Aso Rock a priority in this time of wide spread insecurity.
Investigations conducted by us revealed that the presidency is said to beef up security measures at Aso Rock (the nation's Presidential Villa) with a N5B safe keeping apparatus contracts.
The deal was recently- quietly- given out to a Lagos based company with head office with affiliation to a bigger firm in Germany.
The company's brief is to provide a Robot bomb detectors and related gadgets that fall under the purview of security risk identifiers.
The 'products' are currently being put together in Germany.
Vice President Namadi Sambo is directly in charge of overseeing the execution of the contract.
Insiders revealed to show the seriousness of the situation at hand- the V.P is said to be in constant touch with the contractor for updates on the progress of work.
Information revealed that the security gadgets-expected to decorate the nooks and crannies of Aso Rock- are to be delivered and fitted next year.
Presidential spokesman Reuben Abati sent a text message that he just returned from a trip when first contacted- then refused to pick his phone for the next three days.