'Acting is apostolic' – EMEKA ANI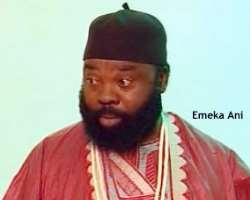 HEAVILY bearded Chief Emeka Ani is one of the old actors in the Nigerian movie industry. ENCOMIUM Weekly cornered him at a social gathering recently and he told us some new things about himself…
What would you say have achieved through acting
Acting brought me fame. It has given me life, it has given me a name and with these, I think a man is made. When you are famous enough, healthy and you are wealthy and you are wealthy, you should be contented and grateful to your Creator. Acting has done a lot of things for me.
What do you enjoy most about acting?
It is apostolic. You preach the gospel through acting. It makes you a man of all. Your fans are always happy when they see you. So I am always happy when I see my fans happy for me and praising God for my life.
How will you rate Nigeria's entertainment industry?
We have come to stay. The entertainment industry has come a long way. We are yet to break everything, but wherever we are now, I think the entertainment industry in Nigeria has come to stay. We are rated number three, but I am saying that we are becoming number two and in five years, we will be number one. We are going to kick off Hollywood because we are doing it generally, traditionally and internationally.
Story by http://nollywoodgists.com