Congo's Kabila Re-Elected, Opposition Cries Foul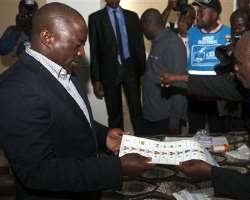 INCUMBENT CONGOLESE PRESIDENT JOSEPH KABILA RECEIVES HIS BALLOT AT A POLLING STATION IN DEMOCRATIC REPUBLIC OF CONGO'S CAPITAL KINSHASA, NOVEMBER 28, 2011.
Democratic Republic of Congo President Joseph Kabila won re-election, the head of the electoral commission said on Friday, urging calm after a provisional result that the opposition called "totally unacceptable".
Columns of black smoke rose over parts of the mostly pro-opposition capital Kinshasa, where riot police had been deployed in advance, while celebrations broke out in other regions of the vast minerals-rich central African state, witnesses said.
"The electoral commission notes that the candidate Joseph Kabila has achieved a majority with, 8,880,944 votes, or 48.97 percent of votes cast," Daniel Ngoy Mulunda told reporters and diplomats gathered to hear the outcome of the November 28 poll.
"(The results) are no reason to whip up the population against the established order to contest the results, or to settle scores," said Mulunda.
Kabila's main challenger, opposition veteran Etienne Tshisekedi, was runner-up with just over 32 percent.
"It is a totally unacceptable result," Tshisekedi's campaign president Alexis Mutanda told Reuters. "You can just look around Kinshasa or the rest of the country to see how many people are against these results."
He said Tshisekedi's UDPS party had not decided on its next move, but had "no faith" in the credibility of the Supreme Court charged with ratifying the results.
A senior member of Kabila's camp said he was "overjoyed" by Kabila's win, and proud of the election process.
"We have proven to the world that we can finance and organise elections," Kikaya Bin Karubi, who is also Congo's ambassador to Britain, told Reuters. "We are very happy and we are ready to continue the work rebuilding the country."
At least 18 people have been killed in election-related violence so far, according to U.S.-based Human Rights Watch, as opposition protesters took to the streets alleging the government was attempting to rig the vote.
The November 28 poll was Congo's first locally organised presidential contest since a war that killed more than 5 million, and is meant to move the country towards stability and encourage investment after years of conflict and turmoil.
The announcement of the result had been delayed twice earlier in the week due to logistical problems and as donor nations urged more transparency, stretching the nerves of residents eager for an outcome.
In the capital of Congo's Katanga Province Lubumbashi, the heart of the country's copper mining industry, residents were blowing vuvuzela horns and whistles and others were firing guns into the air in celebration, a foreigner living there said.
"People are singing, there is clearly a lot of joy," he told Reuters by telephone, asking not to be named.
International observers have said the election process has been marred by irregularities and disorganisation, but have stopped short of calling for it to be annulled.
Before the results were announced, convoys of police trucks patrolled the city, security forces carrying tear gas launchers were deployed on street corners, and shops shut early.
The government of neighbouring Congo Republic said this week it is preparing a refugee camp north of Brazzaville in case violence forces people to flee across the Congo River.
REUTERS