Shocking pictures:married yoruba actor batters married lover!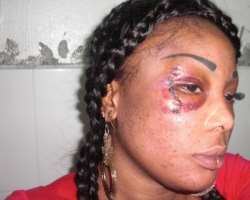 this is the result of love gone sour!
Man meets woman....he is married with kids and his wife lives in dublin.she is married and has kids as well and lives in nigera.
tunde is based in ireland but shuttles nigeria and whever when he gets a script.
Well............
Sparks fly and both begin a relationship that spiralled into something so dangerous that he beat her up and changed her outlook.
the woman with the damaged face however refused to seek redress the legal way.....she has instead taken the war to facebook!
......Did i hear you remind me that hell hath no fury like a woman scorned and beaten up? You are damm right!
the once pretty lady is named Tope Aduni Olabiwoninu DouhertyIn and she owns one of the biggest shops in Alade market called three t's.
Tunde was interviewed by wolestreetjournal on facebook and this is what he had to say''"I DID NOT BEAT Tope Aduni Olabiwoninu Douherty SHE LOVES ATTENTION AND THATS ALL, Ask HER TO TELL THE WHOLE WORLD WHAT HAPPENED TO HER". SHE JUST WANTS TO BLACKMAIL ME. IT IS NOT BY FORCE ''.
they have accused each other of unprintable names so shocking that it will leave you in a cold sweat.
If this man did this to this lady whom he refers to now as prostutite then hes a lowlife scumbag and his baby drivel is lost on me...heediot!
hisssssssssssssssssssssssssssssssssssssssssss.
Bellow is Tunde Ologundudu(the goat who looks like his goat)
Story by sTeLLA.dK