HEARING OF CPC'S APPEAL AGAINST JONATHAN, SAMBO ELECTION STALLED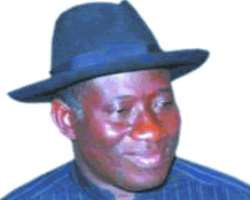 The inability of the Chief Justice of Nigeria (CJN), Justice Dahiru Musdapher to constitute a seven-man panel of Justices yesterday stalled hearing in the appeal filed by the Congress for Progressive Change (CPC) against the decision of the Presidential Tribunal, which upheld the victory of President Goodluck Jonathan in the April general election.
Hearing in the appeal was slated for yesterday but before counsel could announce their appearance, a panel of five justices, headed by Justice Mahmud Mohammed told the court that the matter would not hold as a panel to hear the appeal had not been constituted by the CJN.
While apologizing to the parties, he informed the court that the CJN was not around and as soon as he came back, the panel would be set up and a new a date would be communicated to the parties.
Counsel to CPC, Dipo Okpeseyi, urged the court to be mindful of the 60 days ,which the Electoral Act provided for the hearing and determination of the appeal so that the party would not be caught outside the specified days.
Responding, Justice Mahmud said the court would take note and would do all within its reach to make sure the appeal was heard and determined before the expiration of the 60 days.
The CPC had on November 11 filed notice of appeal at the registry of the Court of Appeal, while on November 28 filed its appellant brief of argument where it argued that, the trial tribunal erred in law, when it rejected documents required to prove multiple thumb printing, non-distribution of electoral materials, not ascertaining the actual number of required voters, the accredited number of voters and the actual number of voters that had voted in the disputed election.
The party, therefore, asked the apex court to make an order, directing the president of the Court of Appeal to direct another panel to entertain and determine the petition by way of a retrial, adding that the justices erred in law when they lumped together evidences of respondents' witnesses, who they acknowledged as different sets of respondents and thereby occasioned miscarriage of justice.
They similarly said the panel of justices misdirected themselves when they held that the mere assertion of the petitioner that the election was flawed, would not shift the burden of disproving the assertions on the respondents and that the onus lied on the appellant to prove non-compliance. The Presidential Election Petitions Tribunal on November 1 held that the election was free and fair and dismissed CPC's petition in its entirety for lacking both merit and substance.
The tribunal, in a unanimous judgment held that President Jonathan was validly elected, having secured two thirds (22, 471, 370) of the lawful votes cast during the election.