Representatives Move To Enthrone Internal Democracy In Political parties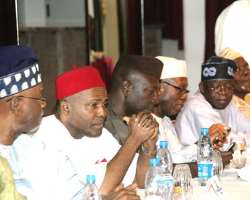 ABUJA, December 8, (THEWILL) - The House of Representatives Thursday commenced the process of ensuring internal democratic virtues in the nation's democracy as a way of eliminating the preponderance of godfatherism in the nation's politics.
This was sequel to a motion by Hon. Albert San Tsokwa, who told his colleagues that since the advent of democracy in Nigeria in 1999, political parties as well as politicians have failed to give Nigerians reasons to participate in full democracy, stressing that, " we must ensure that democracy as the government of the people for the people and by the people must be seen to be in full practice where the people chose their representatives in a democratic process and not through the whims and caprices of a few persons…. we must decide what we want to practice."
According to him, "the practice of Nigeria's democracy still lacks essential internal democratic virtues that conform to international best practices, as often times kangaroo primaries are organized by leaders of political parties in favour of their anointed, preferred, or imposed candidates. The way and manner candidates are selected by our political parties for elective positions in some cases negates the true principles of democracy and leaves much to be desired."
"We are worried that various democratic institutions established by the constitution and other extant laws have no sufficient mechanism, strong enough to guarantee internal democratic virtues in our political parties," he stated.
Supporting the motion, Hon. Bello Farouk argued that internal democracy in every country is the beginning of good governance all over the world and that democracy cannot be achieved if the process is not transparent and does not meet with basic tenets of democracy.
"We all went through the process of primaries to the elections proper, we know the stress we went through and all of that happened because of lack of internal democracy. We must ensure that there is internal democracy so that at the end of the day, the people that would represent us would be people we would respect, but the problem here is that once a candidate is favoured it does not matter to him how the process was driven and that is why some people are bent on pulling down the country," Hon. Farouk said.
Also speaking on the motion Hon. Ahmed Idris Wase argued that, "if we want the country to move forward democratically we must have internal democracy because the only way we can honour those who laid their lives for this country to have democracy is for us to obey the simple tenets of democracy by ensuring that decision of the people at every election prevails."
Others who spoke in favour of the motion include Honourables Udo Deji, Adejare Samuel, Ayo Omidiro, Hassan El-Badawi, Friday Itula, Habib Mustapha and Samson Osagie.
In their contributions, they all agreed that lack of internal democracy in the body politics of Nigeria is like a cancer that must be addressed if Nigeria must make progress.
The motion was then referred to the committee on Inter-parliamentary matters for further legislative action.