Federal Government Promises To Reduce Recurrent Expenditure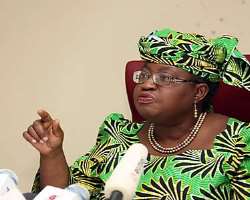 MINISTER OF FINANCE, DR. (MRS.) NGOZI OKONJO-IWEALA
ABUJA, December 8, (THEWILL) - Minister of Finance and coordinator of the Nigeria's economy, Dr. (Mrs.) Ngozi Okonjo-Iweala today told the House of Representatives that the President Goodluck Jonathan administration is resolute in its bid to ensure that there is a reduction in the nation's recurrent expenditure.
Okonjo-Iweala also said the policy would also ensure that annual budget deficits are reduced to the barest minimum.
She told the committee that this government would equally do all within its reach to restructure the budget deficit to 3 percent of Gross Domestic Product (GDP).
"Our expenditure pattern has been very volatile and unsteady. This is not healthy at all. We want to cut recurrent expenditure and restrict it to below 70 percent of annual budget. That is the reason we have equally been waging war against ghost workers and ghost pensioners syndrome," she said.
The Minister informed lawmakers that another key economic reform strategy of the administration is the drive towards reducing the nation's debt burden.
Responding to a question from the chairman of the committee on Finance, Hon. Abdulmumuni Jubril, the Finance Minister said, "We are watching our domestic borrowing. Although we cannot stop taking loans because we need it to survive, we will try as much as possible to reduce it, particularly local debts. Our local debt before was N852 billion. But we have been able to bring it down to N794 billion but we will keep it down as time goes on until we reach N500 billion. An important point here is that we must pay our debts and we will make every effort to pay," she added.