Banks Lead Wall St Down As Market Doubts ECB 'Bazooka'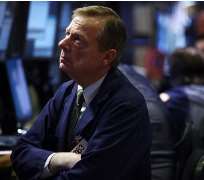 Bank stocks led a sell-off on Wall Street on Thursday after the European Central Bank tempered hopes that policy-makers were priming a much anticipated financial "bazooka" to tackle Europe's raging debt crisis.
ECB President Mario Draghi discouraged expectations the bank would massively step up buying of government bonds after a crucial Brussels summit on Friday.
His comments, coupled with a stark warning about the health of the region's economy, overshadowed a cut in the bloc's interest rate back to a record low 1 percent and extra liquidity provisions for banks.
The S&P financial sector index .GSPF was the biggest loser, falling nearly 3 percent. That followed sharp losses in European banks' shares as sources told Reuters the European Banking Authority (EBA) sees the capital shortfall at European banks at 114.7 billion euros ($154 billion).
Shares of Morgan Stanley, a barometer of risk aversion due to its perceived exposure to Europe's crisis, fell 6.2 percent to $16.27.
"Markets were clearly looking for more," said Ryan Larson, head of equity trading at RBC Global Asset Management in Chicago. But he added that light volume suggested investors were taking a wait-and-see approach ahead of the EU summit.
"You would have expected that conviction would have been a little bit higher today, which may suggest that Mr. Draghi and the rest of the ECB or EU members may have something additional to announce."
The decline comes after three days of gains for U.S. stocks when the S&P 500 tried and failed to stay above its 200-day moving average, which has been a key level for investors to watch this year, and one that could prove tough to break.
But Thursday's pullback, concentrated in economically sensitive areas, was a far cry from the wild swings of recent months when uncertainty over Europe has dominated headlines. That is being seen as a sign of resilience by many investors who are hoping for seasonal strength into the end of the year.
The Dow Jones industrial average .DJI dropped 134.98 points, or 1.11 percent, to 12,061.39. The Standard & Poor's 500 Index .SPX fell 18.36 points, or 1.46 percent, to 1,242.65. The Nasdaq Composite Index .IXIC lost 29.64 points, or 1.12 percent, to 2,619.57.
France and Germany plan to use Friday's summit to lobby for their plan to amend the European Union treaty to toughen budget discipline, which they want to have ready by March. But several countries are skeptical.
"The market really wants to wait until tomorrow to see what comes out of the summit," said Ken Polcari, a floor trader at NYSE with ICAP Equities. "You are going to see the markets bounce around until tomorrow."
Yields on European sovereign debt spiked. Ten-year Italian government bond yields rose 44 basis points to 6.51 percent -- the day's high. German Bund futures hit a session high of 136.89, up 109 ticks on the day.
Losses were limited as U.S. jobless claims fell more than expected in the latest week, a sign the labor market recovery was gaining momentum. Claims fell to a nine-month low. [ID:nN1E7B706Y]
Boeing Co's (BA.N) biggest union ratified a contract extension late Wednesday, ensuring a new version of the aircraft maker's 737 narrow body plane will be built in Washington state and likely ending a dispute with the National Labor Relations Board. Shares of the Dow component slipped 0.4 percent to $70.32 after trading as high as $71.10 in the morning.
Costco Wholesale Corp (COST.O) fell 1.3 percent to $86.26 after reporting its first-quarter results.
McDonald's Corp (MCD.N) shares rose 1.1 percent to $97.47 after the fast-food chain reported a bigger-than-expected rise in November sales at established restaurants across the board.
REUTERS