I Never Knew I Was Dating A Fraudster - Lizy Anjorin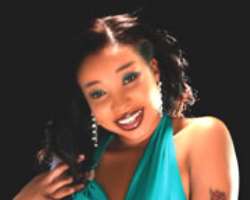 Lizy Anjorin, actress, producer and business lady, today debuts her new multi-million movie, Gold. She takes Adunola Fasuyi through her experience as an actress and the journey so far. Excerpts:
Tell us about the movie, Gold ?
The movie GOLD is the story of my life. In that film, I played up the terrible experience I had in the hands of my ex-boyfriend, what it cost me and how I was able to survive it. It is a movie to watch, because both men and women have a lot to learn from it. Even parents will learn from it. You see, most times when young women fall into the hands of evil guys, it could be as a result of pressure from the parents on marriage, especially when the child is the only child like me. The movie is very inspirational, touching and educative. In fact, there is a woman we shot a scene in her house, when she read the story line, she burst into tears because she said Gold was exactly talking about her, that is, it is just the story of her life too. So, the movie is a nice one and I purposely did it to tell a story and teach some lessons. It is a true life story.
How much did it cost you to produce this movie?
Gold is a N5 million production. In fact, I spent more than that, but I just want to peg it at N5 million. It is not a wishy-washy movie, but produced to a standard class. I featured prominent stars in the movie and all my crew members were well paid. Besides, we also used state-of-the-art technology in producing this movie. I wrote and produced it all alone. It cost me a lot, but I thank God for the eventual success of the work.
What are you doing against your movie being pirated?
My sister, what can I do than to pray to God? That piracy thing is a very serious one and unfortunately our government is not acting as expected. But, if government will take my advice on how to fight piracy, I will suggest that they introduce Sharia laws in fighting the scourge. They should cut off the hands of any pirate caught in the act; by the time three or four pirates' hands are cut off, others will desist.
How has the experience been like, I mean acting?
Acting is nice, very interesting. It is a good profession which, to me, every family must endeavour to produce, at least, one actor or actress. Every family should try and produce a celebrity, because being a celebrity is very sweet though the challenges that come with it can, at times, far outweigh the sweetness and popularity attached to it. The negative aspect can be worse than HIV.
Can you talk about some of your sad experiences on the job?
When I had problem with my ex-boyfriend, it was really sad. I never knew I was dating a fraudster; he stole my car, money, gold and in conjunction with his mother and a journalist friend still lied and rubbished my name in the press. It was hell! Do you know that when he published that libelous story, I was indoors for five good months? I could not go out because of the shame, the stigma and even my mother could not go out or go to church. My sister, it was hell! The negative aspect of being a celebrity, particularly when a story about you is not true, is worse than the fame and glamour of being a celebrity and even worse than AIDS. In fact, I never really knew the meaning of being a star until that incident and the publications came out.
The saddest part was that, I didn't get any support from my colleagues in the industry, rather they helped to spread the fake story the more. Only Sikira Sindodo stood by me by calling to check on my welfare. It is really bad. I want to charge our members in the industry to eschew envy, jealousy, battle for supremacy and embrace love, support for one another because that is how the industry can move ahead. However, I thank God today. The case is still in court and the guy is in custody until judgment, because he had jumped bail twice.
Why didn't you get support? Could it be because you are a lone ranger?
My sister, it is all envy and jealousy. Yes, I am a lone ranger and I like it that way because ladies have problems; if they don't gossip they will fight — fight for respect or backbite. I don't like all these attitudes; so, I prefer to move with guys who will rather advise you. They say I parole alone, but I prefer it like that. They envy me because of my substance, but they don't know what I do to make money. It is not just acting that I do. I am into business as well. In fact, I have been doing business right from primary school. So, they see me driving this car or that car and they get jealous or feel I am doing aristo runs and I am not carrying them along. I am the only actress that entered the industry with a car and they all know that; so, I don't understand the envy.
So, is any guy on board now?
No, no, no! I really want to take my time this time around. I believe now that all guys out there are like my ex. Honestly, I am taking my time. Besides, most guys in Nigeria now are gold diggers; they don't want to work but want to live on women.
Plans for marriage?
I am not even thinking about that now. That was what my parents wanted and landed me in the hands of the fraudster. That is not in my plan for now. But if you ask me, I don't mind being wife number 22 as long as there is money and peace.
Can you tell us about your background?
I am Elizabeth Anjorin, a.k.a. Iyawo Ojo kan. I hail from Badagry in Lagos State and my mum is from Yewa in Ogun State. On my educational background, I go school well o, contrary to the impression that people have about operators in the movie industry. I went to primary school in Lagos State, secondary school at Iyana Ipaja in Lagos, College of Education, Kaduna, Federal Polytechnic, Ilaro where I read Banking & Finance, and then to Olabisi Onabanjo University where I studied Transport Planning & Management. So, I have NCE, OND and a degree.
You are well read. So, how did you find yourself in acting? Was it by accident or design?
It was through God and a friend. I will say it was designed by God. While growing up, I was very vocal, and I had always wanted to be a lawyer or an artist because I draw very well. I remember when I was in primary school, nobody could steal my locker because I would always draw and design my locker distinctively. I even went for an exhibition in arts in secondary school and I won. I have this artistic talent. But as I grew older, I fell in love with acting and I admire stars, even models, and I told myself that I would become a star. So, while in the Polytechnic, I started modelling; later, I went for training in acting. All these I was doing alongside schooling. I didn't pass by this job like some others, I learnt it. I went for three years training in acting at a registered acting school called Sam Aye Production Arts & Theatre School in Abeokuta. So, I was shuttling between schooling, acting, training and doing business while in school.
What kind of business were you into then?
I do buying and selling. I sell bags, shoes, jewelry and so on. Initially, I never thought of taking acting as a profession. I wanted to be a producer or director, but I realised I could be the star I have always dreamed of. I must be seen; I must be on stage or the TV. I saw a kind of supremacy and affluence around being a star; so, I admired that and went for it.
So, was it the popularity attached to acting that geared you into the profession?
Well, not exactly, but it's part of it. I appreciate good things.
You mean after school you went into full acting? You never worked with your certificate?
No, I never worked with my certificate. I graduated from school, finished my training as an actress and started acting.
Story by http://nollywoodgists.com