UPDATE 1- Nigerian Stocks Fall To 8-Year Low, Funds Buy Bonds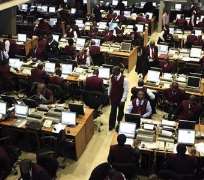 * Foreign investors spurn Nigeria, locals buy bonds
* Index falls to lowest since Nov. 2003 (Adds details, background, quotes)
Nigeria's stock index fell to its lowest level in over eight years on Wednesday, closing down 0.61 percent to 19,829 points, as jittery foreign investors spurned frontier markets and domestic funds switched to bonds, traders said.
The all-share index has fallen 19.46 percent so far this year, dragged down by the banking and oil sectors, as yields on equities become less attractive compared with other asset classes, worsening its outlook, analysts said.
It touched a intraday low of 19,550 before regaining some ground.
Fund managers have been switching into government bonds in recent months in search of higher yields and boosting liquidity in the domestic debt market as stocks continue to falter.
Yields on the 3-year government bond, Nigeria's most liquid paper, are around 15 percent.
"Why will any investor stake his money in stocks for a 5-7 percent yield while T-bills offer around 16 percent?" Adeniyi Falade, managing director of Lagos-based Crusader Sterling Pensions said, adding that his funds had cut exposure to equities to under 10 percent from 15 percent a year ago.
Nigeria's equity index rose above 65,000 points in 2008 to become the best performing stock market in the world, but worsening global economic conditions and domestic banking crisis have shaved around 70 percent off its value since then.
The Nigerian stock market is trading $10 million in volumes a day, a tenth of the $100 million per day in 2008, traders said.
Falade said most local funds had parked the bulk of their cash in fixed income instruments but said his fund was still backing names like GT Bank and some multinationals including Guinness on track record and governance.
UBA, one of Nigeria's biggest lenders, on Wednesday said it issued a 35 billion naira bond with a 14 percent coupon due 2018 and received a 100 percent subscription.
"I don't see the situation changing dramatically (for equities) over the next few months," one trader said, adding that most of the foreign investors appeared fatigued while local players were waiting for the market to bottom out.
The overall index gained 19.67 percent in 2010, on the back of recovery from a major banking crisis.
Banking and oil stocks have been the worst performers this year, losing 34.91 percent and 31.15 percent, respectively.
REUTERS