WHY WE OPENED SYLVA CAMPAIGN OFFICE -DG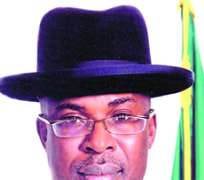 The campaign organization of Governor Timipre Sylva has cleared the air on the opening of the campaign office of the governor, noting that it was to re-assure his supporters that he was still in the governorship race.
The Director General of the campaign, Dr. George Fente, who was at the campaign office on Wednesday to formally commenced series of meetings with political stakeholders in the state said Sylva never intended to launch his campaign but to commission the office.
According to him, Governor Sylva wanted to commission the office but not flagging off campaign or launching the secretariat as was wrongly reported, saying the governor could not flag off any campaign until the court ends the matter which was before it.
He attributed the political crisis in the state to lack of political philosophy among the politicians of the Peoples Democratic Party (PDP) in the state.
Fente explained that from 1999 till date, Bayelsa State, as young as it is, had stumbled from one political problem to another, which had retarded its development.
His words: 'What I have notice is that there is no political philosophy amongst our politicians since 1999. We don't have people like Winston Churchill and the likes of Nelson Mandela who spent 27 years in prison, and yet still stand by what he believes.'Since 1999 there had been one upheaval or the other. No integrity with all our politicians. At what time would they stand for what they believe?
'Sylva was schemed out in a Gestapo and brigandage manner by the Peoples Democratic Party (PDP).'
Speaking on moves by Sylva and his loyalists to dump PDP for another party, Fente disclosed that there plans remain closed to their chest, adding that Sylva was still the leader of the party and governor of the state, and as such even if the governor did not contest, he would still hand over to the next governor. He regretted the dimension the crisis had taken with the PDP elders forum polarized, noting that he did not attend because he was not invited.
While commending Sylva for the political maturity he had been displaying in handling the political crisis in the state, he pointed out that the last governorship primary election would have ended in fiasco as the governor still had security apparatus around him to protect him. Fente, however, expressed optimism that the PDP was one big family and the current crisis would be resolved amicably.
'Until the court clears the political issue in Bayelsa, nothing is happening. The governor's race in PDP is an open one, but it is not over until it is over but what I know is that the state politics has left the realm of politics to the realm of law. PDP has a way of resolving its matters, and as I speak to you now, Sylva is still the head of the party.'