KWANKWASO'S TRIBUNAL VICTORY, A CHALLENGE-JIBRIL, KANO INFO COMMISSIONER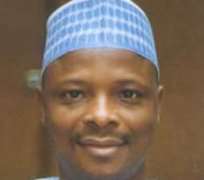 • Kwankwaso
Dr. Farouk Jibril is the Kano State Commissioner for Information, Youth and Sports. In this interview, he speaks on the election tribunal verdict, reformation of Hisbah guards, debt burden, the bad roads in Sabon-Gari and other issues. Excerpts:
Governorship election tribunal verdict
This is a verdict for the entrenchment of democracy. It has vindicated the decision of the voters. What the judgment meant is that there is an agreement between the voters and the judgment of the tribunal. It has vindicated us, because somebody claimed that we rigged the election, even though we didn't have any machinery to that effect.
This is somebody who was out of power. Somebody who did not have the goodwill of the majority of the power brokers in the state. Yet, he was able to win an election under a fair supervision by INEC.
One of the important things that happened to Nigeria's politics is the way INEC conducted the 2011 elections. That is why we are today celebrating. If it were another INEC, it would have been another thing. We are celebrating this outcome because we are fairly treated as democrats. We won an election, the people decided on their choice and the court has affirmed the position of the people.
Most importantly, it has thrown up a big challenge of fulfilling our electoral promises in the areas of power supply, potable water, improving the quality of education, health sector and every section of our lives in Kano most importantly, creating a secured environment for business to strive. While there are opportunities in one side of the victory, there are challenges on the other side. We thank God for that.
It was a serious case
We knew it was a very serious case, somebody challenging your victory after spending eight years as underdog. And when you win and somebody says 'no' that you don't deserve to be there. It was a big source of concern for the government and everybody. This is because to lose the mandate of over 15 million people is a very serious issue. But at the same time, it was a big challenge. We felt that our integrity was challenged. We came out with programs to prove that even if we were going to do it for just 100 days, we would leave something behind that the people would not feel that we let them down. So, we pushed on, we were not distracted. We were actually challenged to prove our worth.
This is a government that is on for 24 hours. We owe this state a duty to make sure that the ordinary people sleep in their homes comfortably. It is not for government officials to sleep before the electorates. Governor Rabiu Kwankwaso does not sleep. He moves out every Friday to feel the pulse of his people. He prays the Friday prayers in different places so that he can collect real intelligence. As he moves around he does not miss an opportunity to talk to the people. That is governance. He opens his doors for even his enemies. We optimally utilized the opportunities brought by the challenge and here we are, today, celebrating.
Challenges of governance
The first 100 days had not been very easy. The colossus debt burden that we inherited, the pile of rubbish dumps across the metropolitan city, the dilapidated position of our hospitals in the state, the general squalor of infrastructure in schools of the state- primary and secondary schools. Nobody will believe that this was the same Kano State that we knew 20 years.
The clean up program started when the governor was sworn in. First, we took up the health sector. Then we moved to address the fertilizer issue. Then, we looked at the dilapidated condition of our primary schools. There was a lot of money lying somewhere, precisely at UBEC. We were surprised. Somebody is ready to give you N2.3 billion and you just bring another N2.3 billion to add and you get money to work in your state. And as a government you are not interested in that for three years: 2008,2009, 2010. Nobody has applied for 2011. We took decision that we must recover that money and we must use it. That was what culminated into our program for building extra classes in all the local government areas.
We then moved on from there. Security for instance, we know that this is a problem for big cities, not Kano alone, Lagos has the same problem. We came out with a program of vehicular support. We reinvigorated the local community security support through the special services and the vigilant groups and the Hisbah and the Civil Defence Corps. We created conducive atmosphere like lightening the streets at night.
Sack of SUPEB chairman
The chairman of the State Universal Primary Education, Alhaji Yakubu Adamu, was part of the draft of this administration. Maybe, you have not seen the last of him. You will see him metamorphosed into another position. People may have their views about what happened, but I know that it is all part of the process of governance. Nobody is there forever and nobody certainly will be there forever.
Financial status of the state
We inherited N77 billion debt locally and $210 million externally. We have other liabilities. It is true that we are in a very difficult financial situation. I am not affirming or rejecting what the National Assembly said, but our government just like many other governments that were listed in that report, we are in a very difficult financial situation. We are able to do what we are doing today because of three things: We have blocked all the leakages in the system. If you can reduce the extent of pilfering of government resources, certainly you can perform to the level that is appreciated. Secondly, we optimally utilize the little resources that come in as grants.
Thirdly and most importantly, we have improved the level of our revenue collection today.  These are the three areas that we are working on. There is nothing that will attract huge burden on what we are doing now. Most of these institutes, we are not building new structures. We use existing structures that were abandoned. We are just converting them and renovating them to start these schools. There are untapped human resources within the civil service almost redundant. All you need to do is just to coordinate them, take them to those institutes and they will provide the necessary support. There are resources that are lying somewhere like the one of SUPEB, ETF and a lot of donor agencies ready to give money to Kano.
We are not saying that we are so rich that we can solve all our problems. Like Daula Hotel, many people are interested in coming to partner with government to establish an institute alongside running the hotel to cohabit in the same place. Those are the innovative means by which we are driving the state today. Most of these institutes now have collaborating partners within Nigeria and abroad. The burden is not squarely on government. If you can access funds from donor agencies, from philanthropic organizations and from established grants within the country and outside the country, you can run the state moderately.
Dilapidated roads in Sabon Gari
We are going to heavily depend on individuals, communities, and organizations to partner with government in executing a lot of projects, which is the norm these days. If there arrangement between government and residents of any area to partner, it would not be out of malice. There is concrete evidence that that kind of partnership is required. I will give an example. Most of the operators in Sharada Industrial Area have come up to assist government in tackling some of the problems on their own. Government is about implementing programs that are community based. I am sure the inhabitants of Sabon -Gari will be very happy to have good roads and streetlights like any other place. We should be helping ourselves. If the roads are good in Sabon-Gari, the people who would benefit more are the Sabon-Gari people.
Hisbah Guards
We want to take Hisbah to its original philosophy. Hisbah was supposed to be the people's vanguard. It was supposed to be a community organization that would protect the interest of the people, not government. In the Islamic tradition, it was borne out of the principles of asking the people to do the right and discouraging them from doing the wrong thing. That responsibility is not only on the government of the day. It is for everyone of us. Stopping the evil and promoting the righteousness. When somebody turns them into a political army to fight his puritanical war, it becomes something else. We are not reforming Hisbah, we are taking it back to its original root, so that people can benefit from the philosophy.
When we were in government between 1999 and 2003, Hisbah was independent of government. They called themselves 'Independent Hisbah' and government only supported them by making sure they operated within the law and by giving them some small allowances. Some of them did not even take the allowance, because it was their concept. Their concern was making sure that their community sleeps well.
How much were they paid at that time? Just N50,000 per Hisbah group in a local government. We want to take them back to their root because Hisbah was badly vandalized, it was mutilated, it was disoriented. You don't create another army simply because you want to win election by all means. You don't need Hisbah to win elections.