REPS SLASH N66.5BN FROM JONATHAN'S ALLOCATION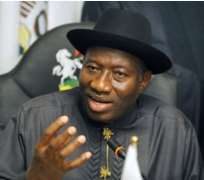 • Jonathan
House of Representatives, yesterday, approved a virement of N31.9 billion for some Federal Government ministries, departments and agencies (MDAs) in the 2011 Appropriation Act, a far cry from what President Goodluck Jonathan asked for.
President Jonathan had request for the virement of N98.4 billion on September 2011, which members opposed until last week when it appeared that members have shifted grounds after a meeting with the president.
Still, the House cut off N66.5 billion from the Presidential request before it passed it and agreed to extend the period of budget implementation date to March 2012 for capital projects.
Chairman, Committee on Appropriation John Enoh, led the debate on the report on the virement proposal as contained in the Supplementary Order Paper.
A look at the report showed that some MDAs, such as Foreign Affairs, Science and Technology, Culture and Tourism, Mines and Steel, Federal Civil Service Commission, Service Wide Votes, Public Complaints Commission, National Poverty Eradication Programme (NAPEP), ICPC and National Sports Commission were dropped from benefitting in the virement.
Enoh argued that the extension of the 2011 budget lifespan to March 2012 became necessary so as to enable the affected MDAs implement the capital projects for which the funds were being moved. According to him, the committee's analysis revealed that recurrent expenditure items 'were transferred between ministries and agencies, contrary to clause four of the 2011 Appropriation Act. 'In the event that a need arises to vire amounts within the heads of expenditure to which sums have been appropriated under this Act, such virement shall only be effected with the prior approval of the National Assembly,' he said.
Enoh argued further that the stand of the National Assembly was that virement should be carried out within MDAs, 'and not the transfer of funds from one ministry to another which amount to alteration of the 2011 Appropriation Act if it is approved.' He pointed out that being already at the end of the fiscal year, the requested funds must have been accessed by the concerned MDAs.
Details of the virement showed that from N31,859,945,730 approved virement, FCT got N940,703,866 against N17,067,478,034; Federal Ministry of Agriculture got N820,650,668 against N6,374,772,436.
Federal Ministry of Lands, Housing and Urban Development got N2.9 billion, while Federal Ministry of Niger Delta Affairs got N10.9 billion, Federal Ministry of Aviation got N3.953 billion against N9.4 billion; Education got N538,285,620 against N7,768,824,003; Defence/Nigerian Army got N1 billion against over N3 billion; National Sports Commission got N810,667,452 against N1,454,893,610; Health got N6.549 billion for Federal Ministry of Health; N3.4 billion for Police Formations and Command while Public Complaint Commission got N15 million.
'In presenting this report, we are so mindful of our responsibility as a committee constituted to guide the House in taking the right decision on appropriation matters without laying a faulty precedent that would impact negatively on our legislative proces